THE MIDDLE WAY
ARTISTS JANIE PINNEY & CAROLINE PINNEY
We recently chatted with Janie Pinney & Caroline Pinney to find out what inspired The Middle Way, the mother-daughter duo exhibition headed our way on April 1st. The collaboration has been an exciting challenge for them. Both artists admit they have very different artistic styles, yet they have created a body of more than 60 paintings that are beautifully intertwined, including several collaborative pieces. "Woman in the Wild" (above center) is a large 48 X 54 joint piece that merges Caroline's leaning toward warm, earthy neutrals with Janie's craving for bolder, brighter color and the result is fabulous. In order to make the collaborative pieces work, the artists believed they needed to lay ground rules before picking up their brushes. They agreed they would pass the painting back and forth between them with no narrative, giving the other free creative reign to add or paint over anything without judgment or disappointment – until they agreed it was finished. How lovely is that!? We can't wait for you to see!
See interview below to learn more about Caroline and Janie and their creative journey together on The Middle Way.
ARTIST RECEPTION, THURSDAY, APRIL 4th. PLEASE JOIN US!
---
---
JANIE PINNEY & CAROLINE PINNEY
PH: What first sparked the idea for a mother-daughter collaborative show?
JP: I thought a duo show would be a great opportunity to intertwine our different styles and color palettes. It has been a fun challenge to juxtapose thoughts on our collaborative pieces and encourage each other to push ourselves outside of our boundaries. The icing on the cake is getting to spend time together working toward a common goal.
PH: How do your personal styles compliment each other and how are they different?
CP: My mom and I have completely different styles (in my opinion). And I adore her work. My color palette draws from more earthy, raw, and warm neutral tones with subtle pops of color. I'm drawn to simplicity. I love minimalistic art. Mom implements brighter color, and her subject matter is often botanical or totally abstract. Our techniques overlap with the gestural marks we both tend to make.
PH: What have you learned about each other during this collaborative process?
CP: That my mom is a badass. She is my and my sisters' example of what a strong, driven woman looks like and she's also an incredibly hard-working artist. I've been lucky to be able to paint full-time since I moved from Nashville in December, and I've learned how capable I am as an artist just by living under the same roof as another artist like my mom.
JP: I am reminded of how fortunate I am to share a passion with my daughter where I can learn and grow from her perspective.
PH: Have there been any challenges?
JP: Getting started on the collaborative pieces took a little while. We were each worried about over-influencing each other.
PH: Other artists that inspire you?
CP: I love Jessica Rose, Mia Cross, Rachel Perlmutter, Laura Berger, Ashley Longshore, Alexandria Coe, Martina Thornhill, and Marleigh Culver. My favorites of the masters are Basquiat, De Kooning, Helen Frankenthaler, Paul Klee, Matisse, and Picasso.
JP: John S. Sargent and Vermeer are my favorite classical artists. I also love De Kooning, Twombly, Dibenkorn, Kahlo, O'Keeffe, Picasso, and Matisse. I am more regularly inspired day to day by other artists who I paint with and/or follow on social media.
PH: Describe the times you feel most vulnerable as an artist?
CP: Anywhere outside the comfort of my own studio! I think vulnerability is a huge part of what shapes us as people and as creatives. It's taken me a long time to get used to talking about my work and myself as an artist (I'm still working on it.) Instagram can often be tough because it feels somewhat unnatural and daunting to promote myself. I think it can be a toxic place for artists sometimes. That being said, I've discovered and even met some amazing artists and creatives online.
JP: I try to always remain open to vulnerability as an artist. Being willing to step out of the comfort zone is a necessity and it's through embracing venerability that we grow and find joy.
PH: Any recent exhibitions that you've enjoyed?
CP:VMFA always has the best eye candy.
JP: The most recent was by local artist Anne Blackwell Thompson at Quirk Gallery in Richmond. Her botanical pieces small and large are stunning. Her keen eye and ability to preserve nature creates amazingly beautiful works of art.
PH: Music you listen to while painting?
CP: I love Tedeschi Trucks and Maggie Rogers right now. I usually go for 70's and 80's music, anything jazz/soul/funk, some more current indie stuff like Rayland Baxter… I made spotify playlists based on what mood I'm in.
JP: I shuffle through different genres. Really love Maren Morris, Dave Matthews, Greta Van Fleet, Colin Hay, Van Morrison, and lately a little obsessed with A Star is Born soundtrack.
PH: Where might we find you casually dining in RVA?
JP: Chopped and Cava locally. Sweetgreens elsewhere. Love a good salad!
CP: My friends and I regularly go to Continental and Jack Brown's because they're so close and the staff at both spots are good people. Secret Sandwich Society and Nate's Bagels are also amazing.
PH: Last book you read?
CP: Just finished Brain on Fire for the second time. Right now I'm reading To Shake the Sleeping Self by Jedidiah Jenkins. I actually met him at a bar while visiting my sister in Austin, and thought he was the funniest and most wonderfully quirky person I'd met in a while. Turns out he's also a great writer.
JP: Everybody Always by Bob Goff for a group study. Really good no nonsense study of how to love everyone without fear, insecurity, or restriction.
PH: Thank you both, we can't wait for your show!

Photo Credit: Tasha Tolliver at Palette Home Richmond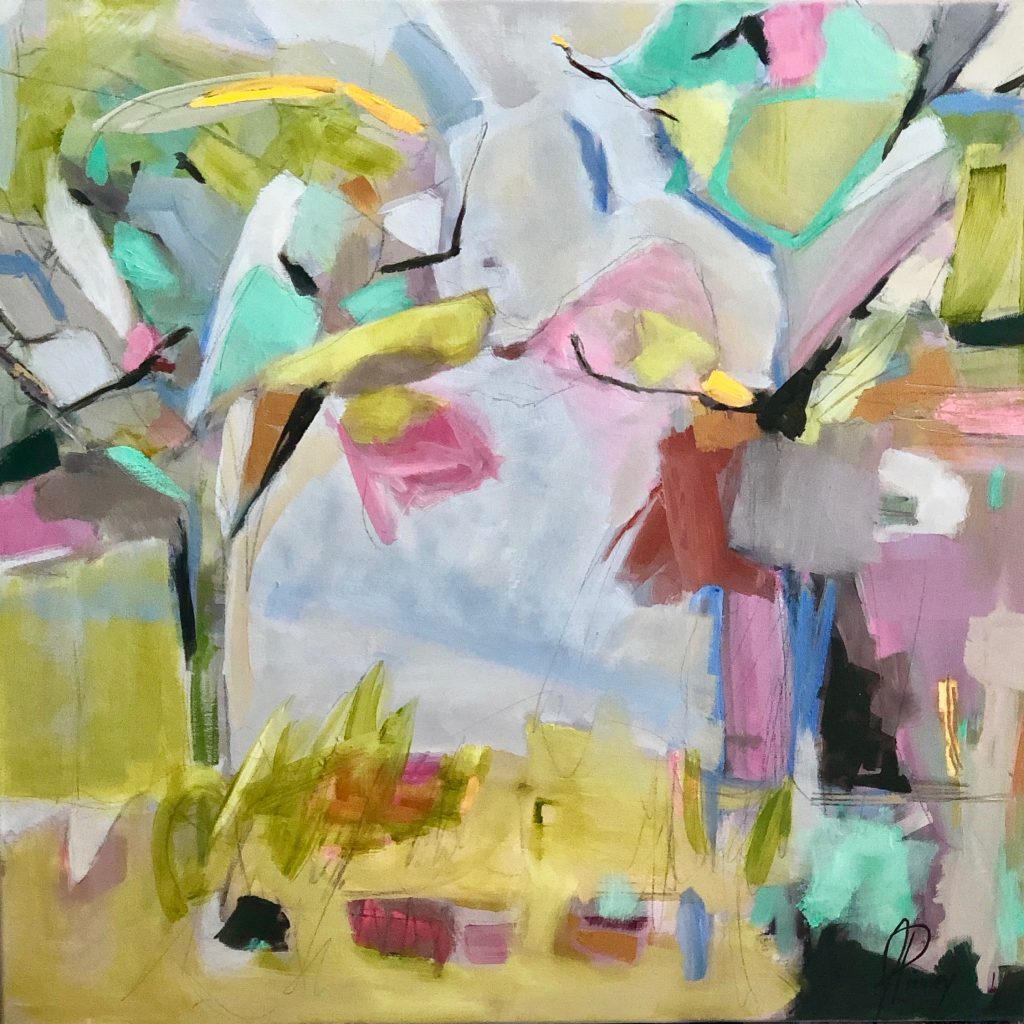 Janie Pinney | Between Two Trees 24X24 $1,100
PREVIEW ALL JANIE PINNEY PAINTINGS
Caroline Pinney | Terra Cotta 30×40 $1,200
PREVIEW ALL CAROLINE PINNEY PAINTINGS
THE MIDDLE WAY WILL BE AVAILABLE FOR PURCHASE ONLINE OR IN-STORE.
9:00AM ON APRIL 1st, 2019
FOR THE LOVE OF ART!