OPENS THURSDAY, NOVEMBER 10th! JOIN US OPENING NIGHT FROM 6PM - 8PM.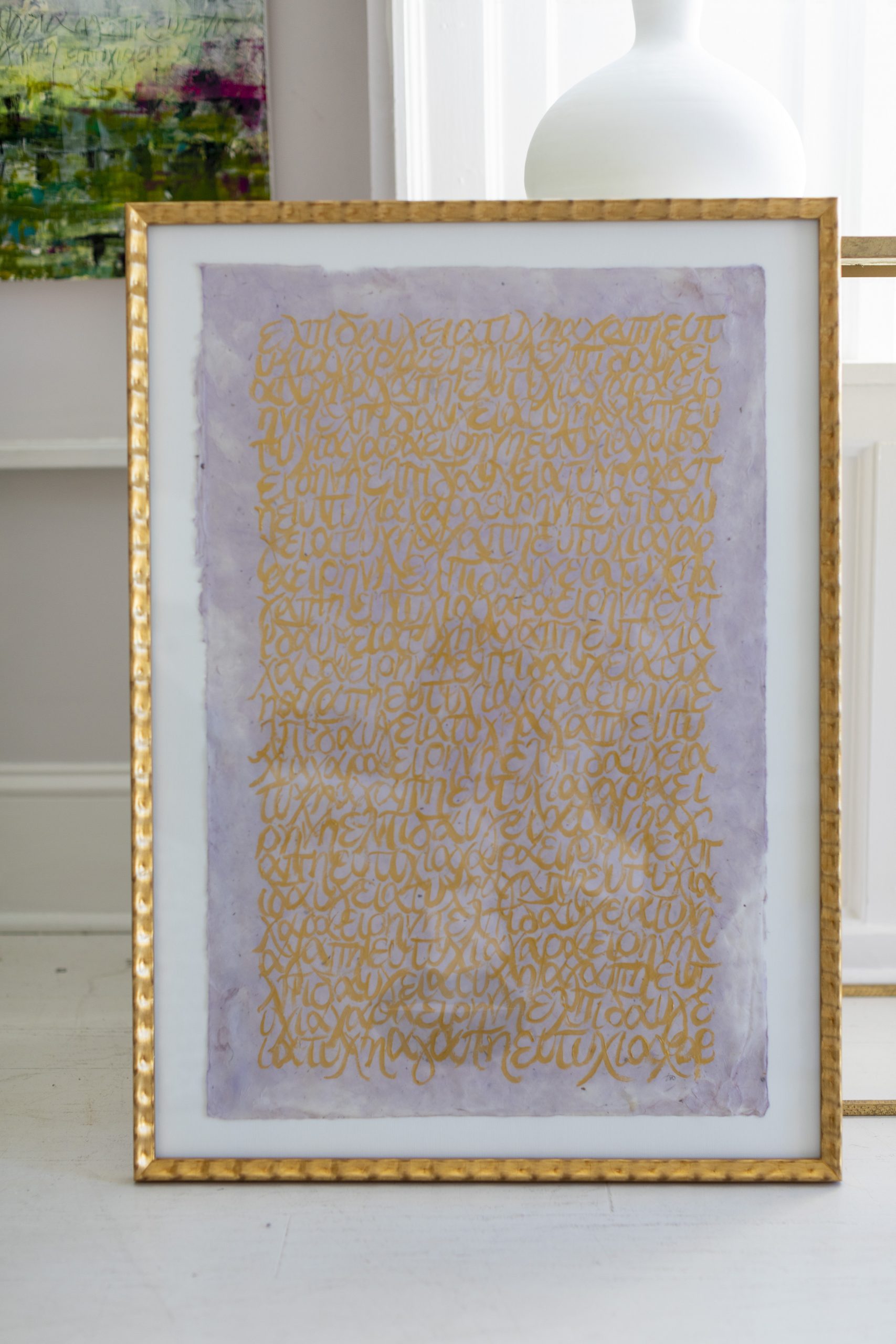 Tell us about this latest collection.  
I've been giving quite a bit of thought to the purpose of my work as an artist. Just as painting helped me heal from my brain injury, I want my art to spread joy, uplift the human spirit and give hope to our complex world. Many of the paintings center around the theme of "7 Wishes" — my meditative painting technique to paint the Greek words for hope, health, luck, love, happiness, joy and peace — but expanding it into new combinations of colors and collage.
Honoring my roots in abstract expressionism, I created deconstructed compositions of the letters, as well as "Hide and Seek" versions where the 7 wishes are lightly carved and veiled.
Having traveled to Greece this past summer, I was struck by the colorful and passionate street art in the Athens City Center. It gave birth to my graffiti-inspired series of "How Deep is Your Love? that features the term of endearment "agape mou (my love)." I love the juxtaposition of the raw brushstrokes forming those tender words. It's the essence of life really, made up of hurried moments but always a current of overflowing love throughout.
Which mediums do you prefer and why?
I love how quick acrylic paint dries which allows me to act impulsively and build layers and layers of texture over time. One of things that I have become known for is accentuating my paintings with paint skins/chips from my palette papers. I love peeling off a piece to discover the most surprising combination of colors on the other side. I have stacks of used palette papers (where I mix the paint), as well as a large carved wood platter with piles of paint chips ready for the next project.
What has painting, as a practice, taught you in your personal life?
To be fully present and stop rushing through life. To notice all of the small details and moments. To enjoy the journey without always knowing what the next step in the path will be.
What in your life has led you to pursue painting full time?
After 30 years in corporate and nonprofit careers, I get to pour my creative energy into my own projects. Every life experience and detour has brought me to this very moment in time.
What have you done for the first time recently?
I started taking ceramic lessons at Clayground and am loving it. I find it incredibly challenging and addictive — I want to keep learning more and more techniques. And there's always the element of surprise of what comes out of the kiln.
What makes you happiest?
Those rare moments when my big kids travel back home from NY and LA and all three kids are reunited. We will often take a stroll through the Fan with the dogs and everyone is chatting and laughing and sharing stories. Sometimes I intentionally pull back so that I can walk behind them and watch their interactions with one another. It takes my breath away in the happiest of ways.
What are your favorite daily routines?
Starting my day with coffee and Greek yogurt & honey and always a sleepy bulldog or two on my lap.
What's one thing that you always have with you?
I have a collection of Greek bracelets that I never take off. Several have evil eyes, one is a bird to remind me of my mother, and a 33-knot Komboskini prayer bracelet that I purchased on Tinos island.
Do you have any paintings in your newest collection that are favorites of yours? If so, which ones and why?
Right now I am enamored with the "7 Golden Wishes" series. I found the most exquisite imported Himalayan paper and knew that it demanded something special. After testing out various paints, I found this one type that felt like I was painting with liquid gold. The custom framing brings it all together with the curves mimicking the visual rhythm of the brushstrokes.
Do you have any advice for emerging artists?
Keep exploring to find your authentic visual language. It's there, just keep digging deep into yourself, your life story and your view of the world.
What are some other artistic outlets that you love?
I love fashion and interior design or anything that lets me play with colors, patterns and texture.
Thank you Theodora, we are in love with this latest collection and know others will be as well!