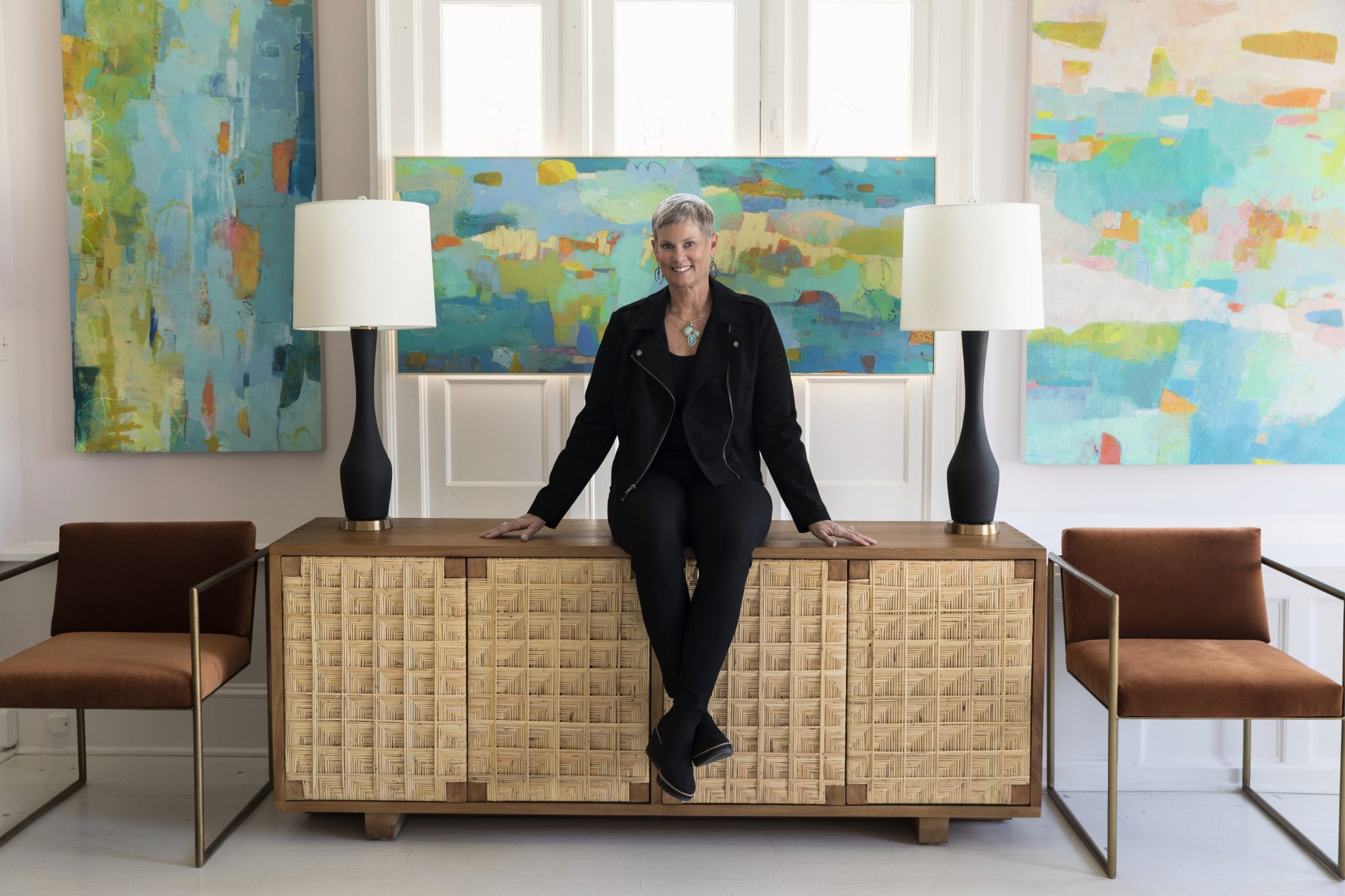 Where are you from and where do you live now?
I was born and raised on the south side of Chicago before moving to the Lincoln Park and Lakeview areas of the city. That makes me a Sox and Cubs fan. I currently live in Richmond now, and my home is a short walk to the James River and Pony Pasture Park.
Who are your biggest artistic influences?
My mother is one of my artistic influences. When I was a child she would take me to the Art Institute of Chicago to see different exhibitions. We would wander around and view all the artwork and finish up at the Thorne Rooms. I still love miniatures to this day because of that. My grandparents are another big influence. Whenever I would visit them they would take me to art supply stores. They lived in Europe and the art supplies there were so good. They offered me an opportunity to play with different media. I still incorporate that sense of play and materiality into my work now.
Do you have a favorite medium? 
Wax emerges as my favorite medium. I like to incorporate it into both oil and pigment. Wax, if used with oil, allows me to mix paint for long periods of time to create interesting color combinations without it drying too quickly. When heating wax with pigment I only have a few seconds to get it right. It's a very flexible medium and offers endless opportunities to create.
Is there a time of day you like best to paint?
I like to create in the morning before the world wakes up and the phone starts ringing. I'll work until I drop something. When I drop something I know I'm tired and it's time to quit.
How do you stay motivated and inspired?
Creating in and of itself inspires me to create more. Creating is my only constant - as I go through different seasons of my life and experience happiness, sadness, joy, and grief creating my art is both my place of rest and rejuvenation.
When did you know art would always be a part of your life?
I started creating when I was a young girl. I constantly had a project. Things such as drawing, macrame, beading and painting kept my attention. I grew up an only child so art making became my best friend. My parents were very supportive of me and always made sure I had the supplies and education I needed.
How do you define success as an artist?
The beautiful thing about art is that there is no right or wrong. If I put my full self into a piece, if I can look at it with pride and joy, that is success to me.
Does your newest collection have a special meaning or purpose?
My newest collection holds a special place in my heart. I've titled this exhibition True Blue in honor of all those friends, family, acquaintances and complete strangers who made a positive difference in my life while I was undergoing breast cancer treatment. Most will never know how their acts of kindness buoyed me when I needed it most. There are so many selfless, good and very kind people in the world.
How does your work impact other areas of your life?
Art is a way to connect to people and places that I would never have experienced otherwise. Many things come and go in life but my art making has always been there for me. When I became too weak to mix a lot of paint or lift heavy panels I began to paint tiny barns and cows that were near my home in Wisconsin. Painting abstractly was too difficult during that time but the barns and cows were tangible and painting them became a great joy to me.
In what ways have you developed your art knowledge and skills?
I've always been curious about the process of art making. If I didn't know how something was created I researched, read, or searched. I've created, studied and taken classes, asked questions and have been lucky to have had some very good mentors. I've been open to other artists with what I know about art making and process and that has come back to me fourfold.
Has your art style changed over time?
Over the years my voice has become clearer, making it much easier to create authentically. I have more to say but I try to evaluate what is needed in a painting. I don't need to say it all at once. Sometimes the things I take out are more important than what is left behind.
Any ultimate goals in your work?
My ultimate art goal is to continue to paint... to always paint. I want to paint until the cows come home.
What are the biggest challenges of being an artist?
My biggest challenge as an artist is finding uninterrupted time ... spaces where my mind relaxes and I get in the flow to create.
Do you have any techniques for overcoming creative blocks?
My one simple technique for overcoming a creative block is to never leave my studio without something to work on. When I leave my studio I always try to leave an idea for the next day or time I enter. That could be random marks or leftover paint on a panel. Anything that could spark an idea. That way if I'm out of ideas at least I have a starting point of possibilities. I can be away for days but I always have a place to start when I get back. I hate walking into my studio cold.
Who do you value most in your life?
My family and my circle. I'm me because of them.
Describe one of your favorite pieces.
My favorite piece of art that I ever created was made of different hues of bright green, blue, orange and white. The shapes were bold and strong and it was right on so many different levels. I think something in me clicked as an artist with that painting. It represented the start of good things to come in my work and career.
If you could own a studio anywhere in the world, where would it be?
I'd love to say Hawaii or Mexico, but truly it's not about where my studio is located. The outside world goes away when I paint. What I do is take experiences from where I've been and incorporate them into my work.
What's a fun travel experience you've had?
One of my best travel experiences was driving the backside of the Road to Hana in Maui. The vistas and sunset were spectacular.
If humans lost the ability to see all color except one, which color would you want to survive?
I'd like the color blue to survive because it's a hopeful color. Its the color of the sky and the darkness of a storm but also the blue light of a sunny day and the ocean and all hues in between.
What's one movie you'd recommend everyone to see?
I'd recommend everyone to see My Octopus Teacher.
If you could have dinner with anyone in the world (alive or dead), who would it be and what would you discuss?
I'd like to have dinner with people that have gone missing. I'd like to know what really happened to them and why.
What's one thing you can't live without in your studio?
That's an easy question. Peace and quiet and my crime shows.
What would the title of your autobiography be?
Thrills, Spills, and No Frills.
Describe yourself in one word?
I was going to say extroverted loner, but that's two words. I'll have to describe myself as a creator because that defines how I look at the world and my place in it.
A favorite hobby right now is traveling and completing Adventure Labs. Adventure Labs are outdoor scavenger hunts or experiences where you have to locate specific spots or landscapes. It has taken me to some really interesting places. The last one my husband and I did in Mexico took us through a jungle to an area with Mayan Temples.
What's a new skill you'd like to learn?
I'd love to learn to speak Spanish. It's a global language that will make me a better traveler and allow me to communicate with people on another level besides as a tourist.
If you could design a planet, what would your perfect planet look like?
My perfect planet would be the one that we live on now... except it would be peaceful.
What's the biggest life lesson you've learned?
Be patient. Things have a way of working out.
Do you own a collection of anything? If so, what is it and why?
I own too many collections, but my most recent is a collection of faces in any shape or form. I have paintings of faces, small sculptures, metal art and more. I think in a way these faces keep me company especially in my studio. One in particular is a large metal electrified face. It makes me happy every day.
Any words of wisdom when it comes to enjoying art?
Words of wisdom.... Look at good art. It will train your eye and elevate your own work. Don't compare, just appreciate.
Thank you, Sue. We've loved getting to know you and can't wait for everyone to see your latest work!
If you're reading this, you're invited! Opening reception for Sue Jachimiec is on Thursday, April 7th 6:00pm - 8:00pm  
5813 Grove Avenue, Richmond Virginia 23226
---