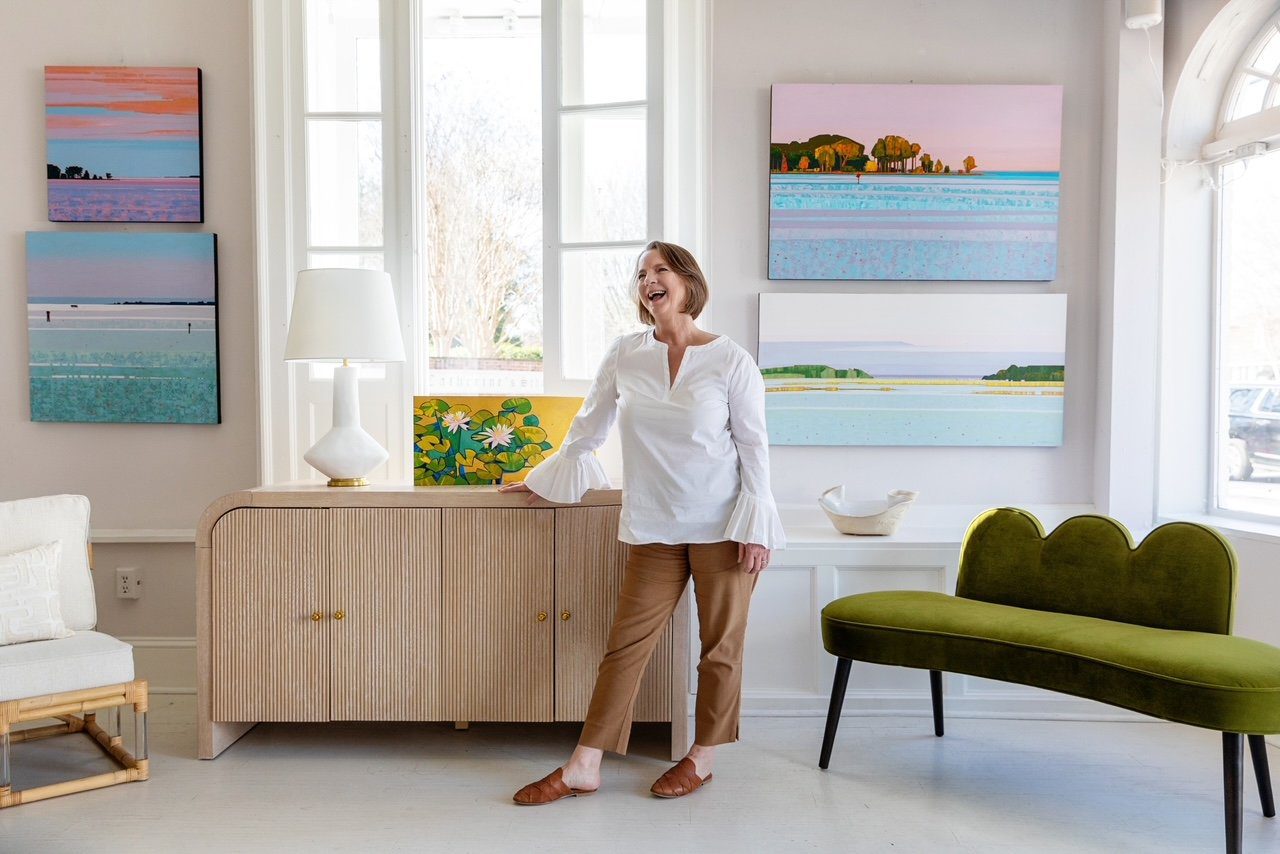 Tell us about yourself.  
I'm a designer, turned painter. I'm a native Richmonder, now living in Lexington Va. I'm an old-ish lady discovering a new career when I thought I'd be puttering about. I'm a life long "seeker of wisdom and truth" (as the old song goes), who's now pretty sure it's just a matter of showing up, and paying attention.
What you would you like people to know about your recent collection?
My thought for this collection was to expand beyond my usual focus on landscapes inspired by the rolling farmland and mountains of the Shenandoah Valley. Like many native Richmonders, I spent my summers in Virginia's Tidewater, so I wanted to change gears a bit to include a collection of waterscapes, to balance the landscapes. And, for a really new direction, I've added a third group I'm calling "Gilding the Lily", based on a collection of photos of water lilies. The idea had been brewing for awhile. When I described it to Stephanie, she was very encouraging, so it seemed like the right time and place to play with something very different - various configurations of lily pads and flowers floating on shimmery gold grounds. It was a blast, and I'm really happy with the results.
How would you describe your art?
Loosely, my work can be described as "abstract" landscape. But, even though it sounds like splitting hairs, it would be more accurate to say "abstracted", or even "stylized", rather than fully abstract.
Do you have a word that best describes what you're manifesting in your life for 2023?
I'm going for 2 words: Compassion and Balance. (my guess is they have more to do with each other than is immediately apparent)
What medium do you prefer and why?
I work in oils. For no better reason than that's where I started, so that's what I know. The idea of having to figure out a new process, seems overwhelming, so can't think of a compelling reason to do it (other than the nigggling fact that most oil paints are pretty toxic - sheesh).
Has your love for painting changed or grown as you've learned more over the years? 
As I mentioned, my previous career was as a designer of rugs and other home furnishing products. People would say, "So, you're an artist?". "No, I'm a designer. We're children of a lesser god." It was meant to be clever, a lighthearted quip, but in fact, I think, revealed a deep current of self doubt that hobbles so many creatives. Am I really any good? And by what objective measures could you answer such a question?
I've come to believe that there is no "lesser god". If there's a Fire that sparks the creative flame, it's immune to our arbitrary and self conscious labels. And the distinction between "artist" and "designer" is murky at best. Having looked at the conundrum from both sides, I've come to this: good artists are designers, and good designers are artists.
What has painting as a practice taught you in your personal life?
My experience of, and curiosity about the creative process has brought me some of the most profound learning of my life. It's a form of meditation. An object lesson in trusting my instincts and inner knowing. An act of pure joy. A place to see the "interference" of my mind, and wonder at the Wonder of where the hell all this comes from. I've been forced (kicking and screaming) to learn something about patience, focused attention, and Humility (capital H intended). Honestly, I could write a book.
Is there a moment in your life that led you to start your artistic journey?
Where and how did my artistic journey start? What can I say? I think I was born this way. 🙂
Do you have a favorite time of day?
When the day is done, dinner is over, and the kitchen cleaned up, I head up to my old clawfoot tub for a very hot, very deep, very long soak (with a book, and sometimes a square of dark chocolate) It's the carrot at the end of my day.
What's one thing that you always have with you?
My dog Mojo. Technically he's a Havenese. But, in fact, is half Leprechan, half Teddy Bear, and my best friend
Describe a moment in your life when you've felt courageous.
Leaving my first marriage with 3 children under 10, a car worth $500, $5,000 to my name, no home and no plan. (WTF was I thinking??!!)
Do you have any paintings in your newest collection that are personal favorites of yours? 
Of the landscapes: "Serried Ranks of Silence". It's from an image I've used before, but I was blown away by the power it generated when it got BIG!
Of the waterscapes: "Pinking", because it's a view very dear to my heart, and the colors are so yummy! Dawn as I've seen it hundreds of times from my family's beloved old cottage at Gloucester Banks, on the York River
Of the Lilies: I'd have to choose "Gilding the Lily" #8 There's something about the composition that jazzes me.
Were any of the paintings in this collection difficult to complete?
"Waterdance" - getting the colors right in the water was really tricky.
What makes you feel accomplished?
Honestly, standing in the middle of an exhibition of my work. I work through one composition at a time, so don't really think of it cumulatively. It's always a shock to see it grouped en mass that way - a good shock!
Do you have any advice for emerging artists?
Keep working. Your skills will get stronger, more instinctual, and sooner or later, you will find your own "voice".
When you feel stuck creatively, what do you do?
When I get stuck, I remind myself that I'm just playing. And, in truth, I am! It takes the pressure off.
The moral of that story: it doesn't pay to take yourself too seriously.
What are some of your best sources inspiration that drive you to create?
I see shapes, colors, patterns, textures everywhere, often at unexpected moments, in unexpected places. I run a series of posts on my Instagram feed I call "Color my World" with examples of these surprising WOW moments. And then, of course, there's the never ending inspiration, the off the charts beauty, of the Shenandoah Valley where I now live. There's something deeply compelling for me about this quiet layered land, and old blue mountains.
When you aren't painting, what other things do you love to do?
Read, cook, eat, laugh, and kiss my dog.
Do you have any favorite art pieces that you've collected in your own home?
Just before the war in Ukraine, I bought a FABULOUS painting from a Russian artist - Olga Grigorieva Klimova. It's a large, loose, very painterly, full length portrait of a young girl holding a flower. Other than being a fellow "colorist", the style is pretty much directly opposite of mine - which I totally appreciate. I live in a small house, and, as you might imagine, there's a lot of art. There was literally only one wall where it would fit. So there she is, and there she reigns, and has made the room sing!
How do you know when a painting is done?
A painting will "tell" you when to stop - but you have to be paying attention. It's very easy to get so caught up in playing out the details, that you lose the big picture. It helps to stand back often, or better yet, stop, make a cup of tea or do something else that changes the channel in your brain, then come back with fresh eyes. You also have to always be willing to re-think, re-see, revise, or totally put aside what you've worked hard on for however long. ie don't cling too tightly to what you think is supposed to happen. (Now if that isn't a major life lesson, I don't know what is).
BIOGRAPHY
I used to design things. Custom rugs mostly. Also mirrors, lamps, plates, furniture, and even scarves. The years spent in the high end home furnishings market trained my eye and taught me much about the detail and discipline required to develop design strong enough to translate through the many phases of development from sketch to final manufactured product.
But now I paint. My designer eye responds to line, form, and certainly color. I look for the color and structure hiding beneath the surface of things. I push the world I see into an abstracted, but recognizable play of color, texture and geometry - a fresh, fun, modern take on the classic genre of landscape painting. I plan a little, play a lot, listen to music and let my instincts lead the way - this is about joy!
As much fun as it is to loosen up and play with paint, the designer in me is alive and well. I'm attracted to clean composition, color, pattern and texture. After years of the controlled specification required for production of custom rugs and other home furnishings products, I enjoy the immediacy of paint on my brush, color at my finger tips, the smell, the feel, and the constant surprises that lead the way. Painting, for me, is a rewarding form of down and dirty magic.
Born and bred in Richmond Virginia, in 2008 I re-located to mid-coast Maine where I painted, cooked, wrote, ate and enjoyed the fabulous scenery. As of May 2014, I'm back in Virginia in my new hometown of Lexington, right in the middle of the beautiful Shenandoah Valley; a big change from coastal Maine, but every bit as inspiring. So here I am, still at it, painting these gorgeous, layered fields and old blue mountains. Life is good.