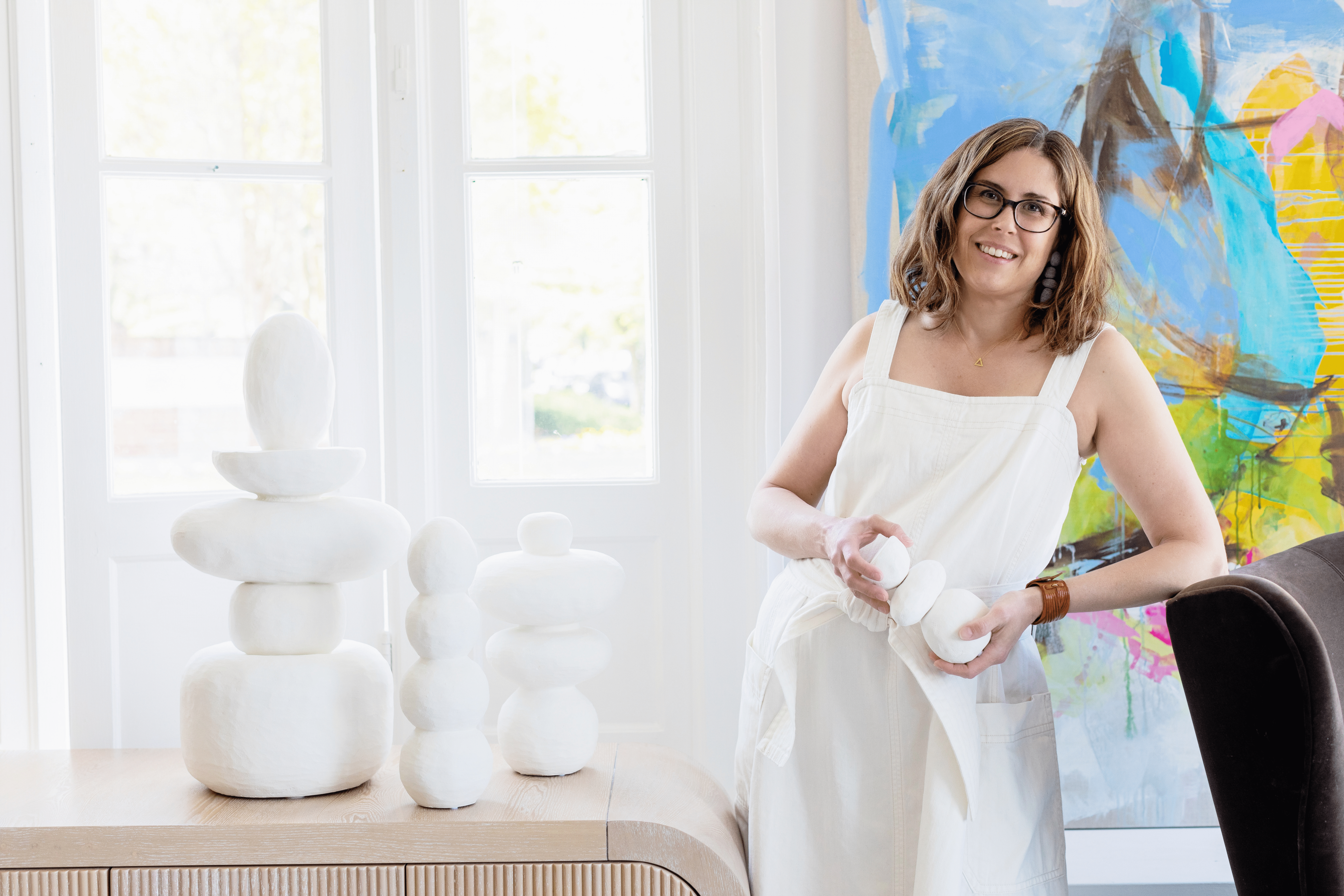 When you feel stuck creatively, what do you do? 
I talk it out with my friend, fellow creative, Jacqui. Sometimes just getting out of my own head and getting a new perspective helps. I will also put the clay down and give it a few days. Stepping away allows space for creativity to happen.
What are three random facts about yourself?
I have a masters in graphic design from VCU, one of my favorite places to be is by the river reading a book with a cocktail, and my husband and I have been together since high school.
Which mediums do you prefer and why?
I love tactile mediums. Yarn and clay both soothe while working with them. Working with clay reminds me of squishing sand at the beach. Crochet is rhymical and therapeutic.
How would you describe your art to first-time viewers?
I make things that make me happy to make.
What are some other artistic outlets that you love?
I also love woodturning. I have a lathe in my workshop and I find woodturning is a great way to work out a frustration. I turn to different mediums based on what my mood needs.
BIOGRAPHY
"For years I've used woodturning to craft my objects. I love the removal of wood to reveal a form underneath. Woodturning taught me to use my sense of touch to create a curve.
Then one day I picked up a crochet hook and repeated a stitch. The rhythm felt right and I went on for days. I was left with a product I hadn't planned to create.
Next, a teacher handed me a lump of clay and showed me how to pinch and coil. I went on and on for days. For months. I may never stop.
The feeling of clay between my fingers soothes me. My pieces are made with a hand building technique called coil building. I work with a gritty sculpture clay that feels a bit like plunging my hands into wet beach sand.
After sculpting a piece in my home studio I finish it at the Visual Arts Center, a community studio in Richmond, Virginia. First I tint clear or white glaze with bold colors I blend from pigment powders called Mason stains. Then after the work is fired I sandblast and treat my vase or sculpture with mineral oil to give it a buttery soft finish.
While I cannot tell you why, my work has always tended toward a playful interpretation of the human form. The names my kids assign each piece are the perfect completion to each."