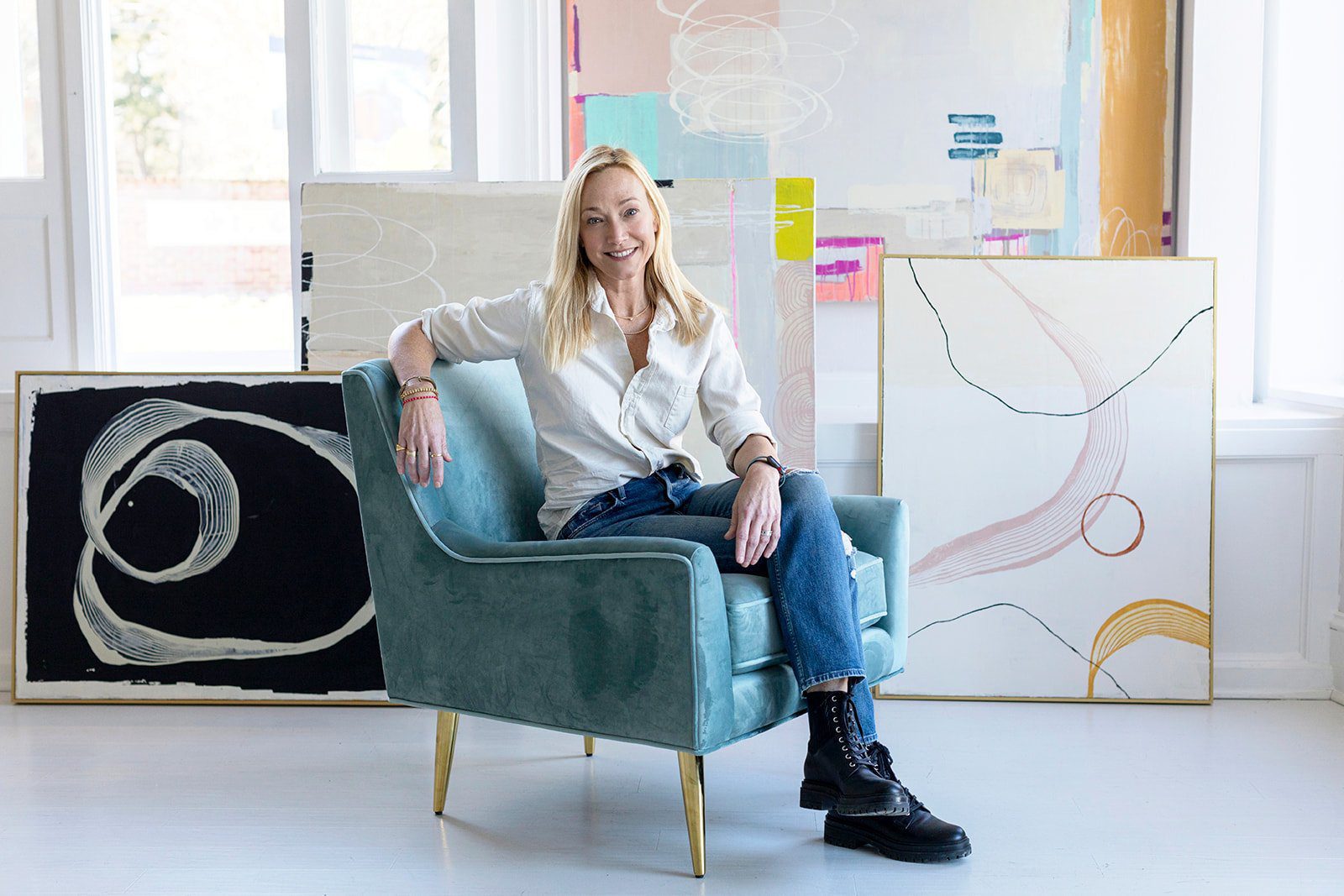 How do you structure a typical day while creating?
I am lucky (or not?) in that my studio is at my house, so I can come and go as I please. . . which means I probably spend too much time in there especially leading up to the show. Sometimes I crave the structure of a more traditional job, and I suppose I could impose that upon myself, but it doesn't feel natural for me when pursuing a creative endeavor. It happens when it happens. That said, anything that I do after about 1am generally sucks the next morning!
Where do you gather your inspiration? 
I find inspiration everywhere. In nature, a stick, a leaf, a tree. Also in objects around my house, in the people I surround myself with…and I love enjoying the work of other artists…reading about them, trying to understand what that mystery is that motivates them.
I admire Agnes Martin, Lawrence Carroll, Mirco Marchelli, Milton Avery, and Patti Smith…just to name a few!
Oh, and old plaster church walls inspire me.
Any words of wisdom you value?
"For things to reveal themselves to us, we need to be ready to abandon our views about them."
How do you know when a painting is finished?
When I don't want to add anything else.
Or take anything away.
What motivates you to be most productive?
What do you do to overcome creative blocks?
Pretend like I am quitting.
And go on a walk outside.
Name one song you could play every time you walked into a room for the rest of your life?
Both Sides Now by Joni Mitchell - she's a creative powerhouse and I never tire of listening to her.
What's something you can "geek out" and talk for hours about?
How our minds work! For many personal reasons, this topic has become fascinating to me. We have the capacity to question our thoughts and find so much freedom in doing so. So much anger, frustration and sadness can be avoided. I sound like such a nerd, but it's true!
If you weren't an artist, what other career would you enjoy pursuing?
Psychologist.
Or house flipper.
Cinebistro with my husband.
Speaking of movies, any you think everyone should watch?
There Will Be Blood.
And Dirty Dancing.
Yes, plane tickets to Sedona, AZ for a trip with my family.
The desert landscape fascinates me; it's so other-worldly! I love the heat of it - the earth is so bare. The animal and plant life that survive there are unbelievable to me, and the color palette is stunning. I can't wait to get there!
What is the biggest challenge of being an artist?
You can't force it. You can definitely court it, and work at it every day. It takes dedication and discipline, and just like anything, you have breakthroughs.
Then you have days where you want to burn the canvas that you're working on…it's all part of the process.
So I guess, I am saying the hardest part is trusting the process and letting it take you somewhere you might never expect.
My thoughts are not who I am.
Thanks Claiborne, we can't wait to share this incredible body of work!  
5813 Grove Avenue, Richmond, VA 23226