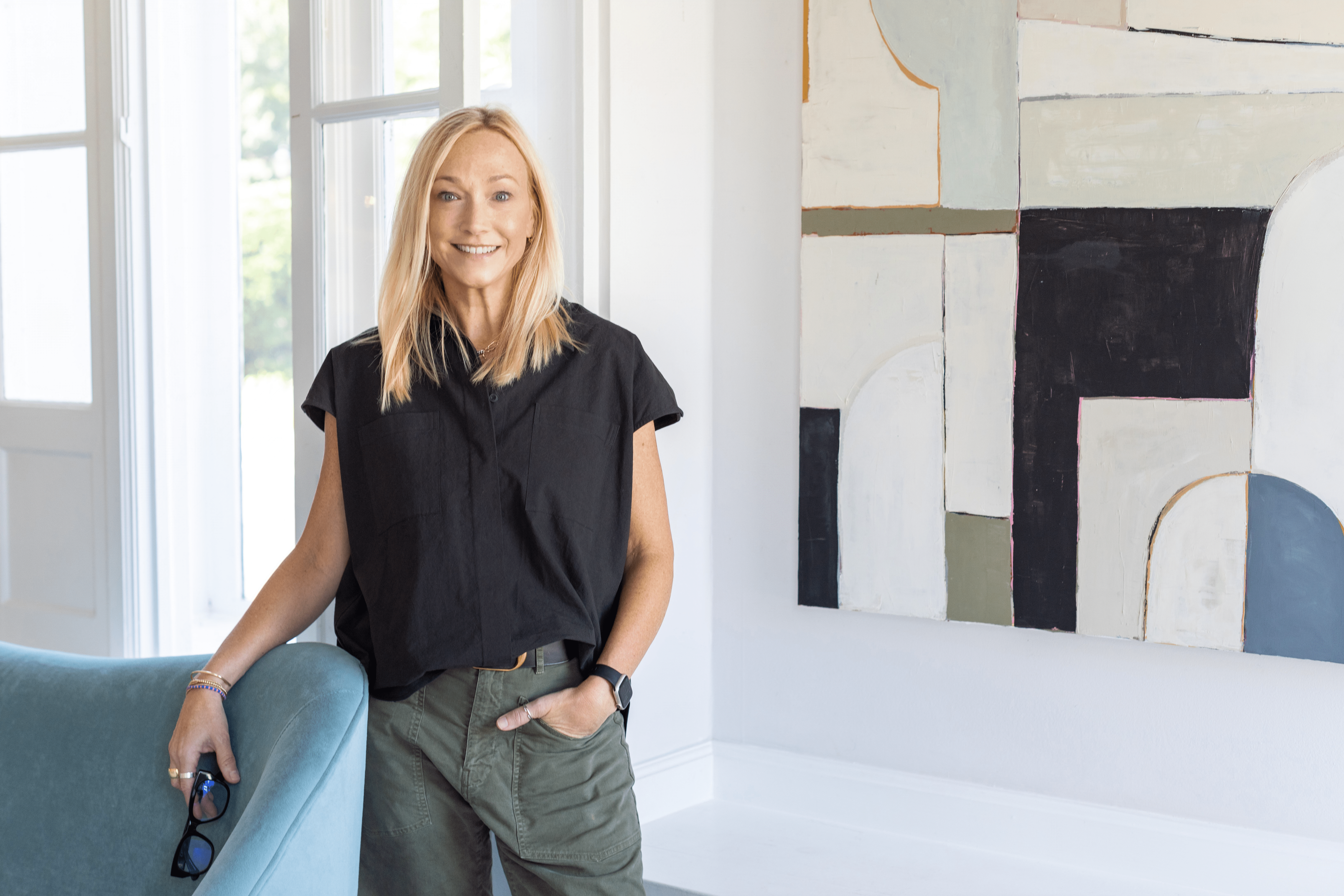 Tell us about your most recent collection.  
This body of work has really been a true exploration of place. It has been almost two years since my last show and the work exemplifies my varied explorations throughout that time. It is a study in design and motion on some level- and relates to prior work in that way. But, after a trip to Paris, I was so struck by what I saw that I found myself working in a more architectural mode- it wasn't even intentional really, very organic. It wasn't until a friend and fellow artist pointed it out that I even realized the shift. This collection feels like a culmination of sorts. A lot of varied ideas that somehow come together and work. As the Art Critic, Jerry Saltz wisely stated. 'Artists: Never stay in your own lane. Switch mediums, materials, whatever. There's no need for consistency. When people tell you to stay in your lane, they're trying to hold you back or keep you down. Do whatever you want to do and you do it well.'
How would you describe your art to first-time viewers?
My work is a study in both design principles and the organic nature of the materials I use. I build and layer very purposely to create something that has a story underneath. I use vintage book pages and old sketches within the painted surfaces. I want the viewer to have a sense of the multi-layered, storied past that these paintings have for me. I also believe that my palette tells a big part of the story. It stays very open and gives space to the action of each piece. When I am in the studio it is very close to meditation, in fact I think it is meditation, so I like to think that a sense of calm is present in a lot of the work. I want the pieces to be open to interpretation, for the viewer.
Is there one style of art that you haven't done that you would try one day?
Sculpture.
If money were no object, how would you spend your time?
Half of my time would be spent making art in a big, light filled loft studio/apartment in the East Village, NYC and the other half working with Milk River Arts, a non profit here in RVA where I am a mentor.
If you could master one instrument, what would it be?
My voice.
What's one thing that instantly makes your day better? 
Hearing from my kids who are both away at college.
Dream country to visit?
New Zealand.
Do you have pieces of art in your home that are favorites of yours?
A large encaustic piece by Richmond Artist Ann Chamblin of six floating yellow birds.
What's one thing you always have with you?
Wrigley's Doublemint gum.
What's one thing you are unbeatable at?  
Listening.
What's your favorite snack food?
Chocolate Caramel Sea Salt Yasso Pops.
When you feel stuck creatively, what do you do?
This may sound strange, but I don't feel that I get stuck creatively anymore. It's kind of I guess that 10,000 hours thing- you just get so accustomed to being in the space of the mind that 'makes'. It's almost the opposite now- I don't get stuck, I get overwhelmed by how much I want to make. That's not to say that it is easy by any stretch- just less scary.
If you could own any work of art in existence, which one would it be?
THIS is a hard question! I would want to own one of Agnes Martin's Grid paintings. Probably Morning, 1965.
What's your most used emoji?
Thumbs up 👍
Which movie do you wish you could experience again for the first time?
Star Wars- when it first came out and I was little and my mind was blown.
How do you know Pam? And what prompted doing a show together?
Pam and I have bumped into each other over the last couple decades as we have a lot of mutual friends- but- it was when she became my daughter's teacher, mentor and friend over the last five or so years that we truly connected. I had always admired Pam's work (and the creativity that just emanates from her in every way!) and when she became that person, that ONE adult figure who GETS you, in my daughters life right when she needed it- well, that was it. We were bonded and have been hanging out ever since. As far as doing a show together- I mean, how lucky am I? I love what she does and I was just thrilled she said yes.
BIOGRAPHY
Claiborne Riley studied painting and printmaking as an undergraduate and received a masters in Art Direction from VCU. Her background in design is immediately evident in her work, with its very conscious attention to spacial relationship and form. Claiborne finds inspiration in both the natural world and the written word, which find a natural cohabitation in her work. Her process is very active. The pieces are poured and scraped, and go from the floor to the wall, and back again. She builds layer upon layer, relying on the interaction of each to create unanticipated relationships of color and texture. From afar, her work is cohesive and strong and upon closer inspection, she allows the surprise of small moments and unexpected detail to come through.
Claiborne lives and works in Richmond, Virginia.