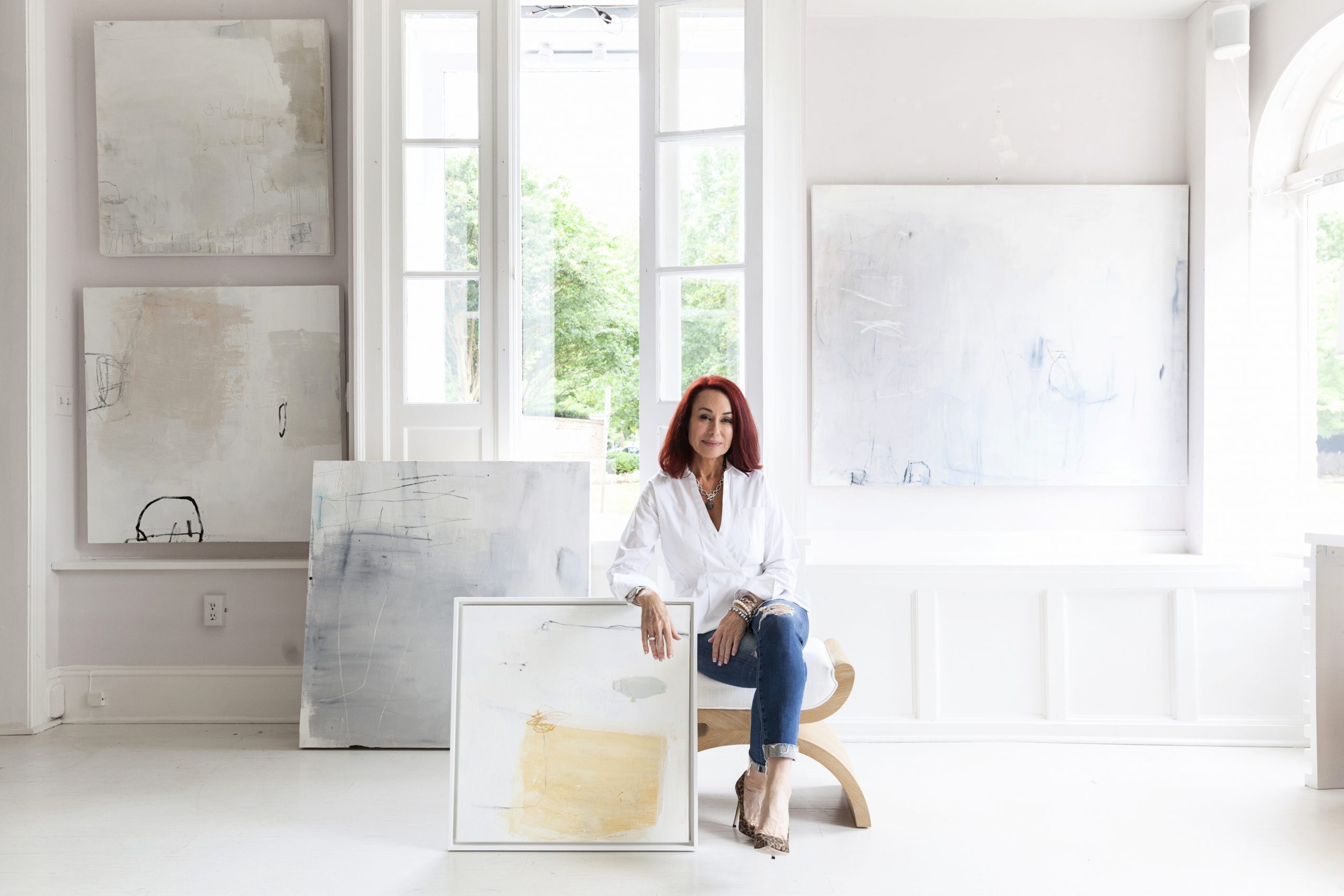 OPENS THURSDAY, OCTOBER 6th with artist Hope Morgan!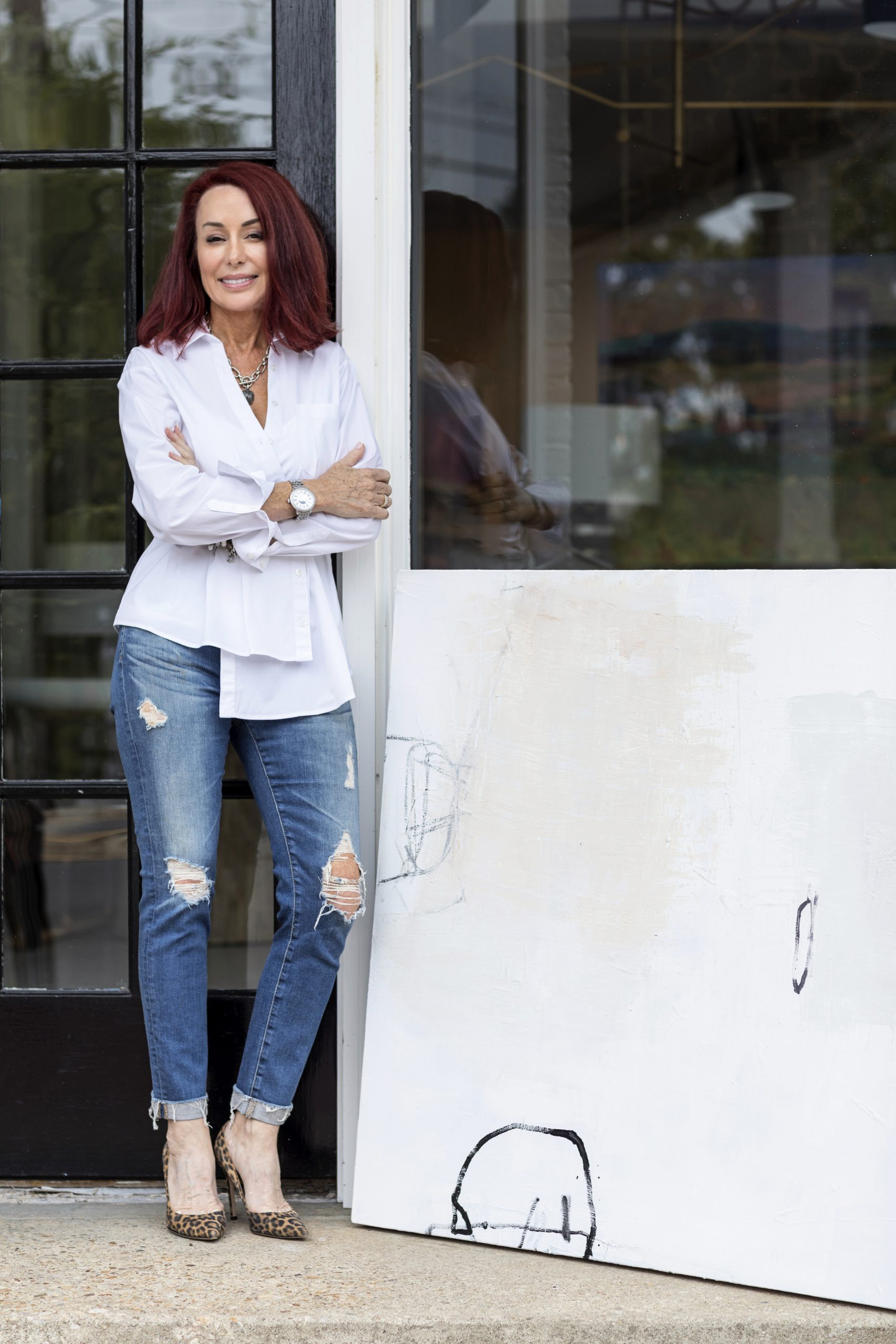 Where are you from?  
Born and raised in New York, I've spent the last 30 years in VA.  Soon, though, I'll be telling you I'm from Marco Island, Florida!
Tell us about this latest collection.  
This latest collection is the result of continued inspiration from the found objects that inspire me:  pieces of concrete, cement, wood – and the marks and textures that make them so very intricate and interesting.  I also added some moments of color and collage through working on paper which was a freeing change from the bigger more layered pieces.
What are your thoughts on this collaboration?
I'm so honored to show with Hope at Palette Home.  Her work is gorgeous, and she is even more wonderful.  She attended my opening last year and it just feels like magic to collaborate in this beautiful show.
Which mediums do you prefer and why?
Usually, every color you see in my work is oil paint except for white because I find that white oil paint yellows in an intolerable way, and my work uses a lot of white paint!  For me, white paint is almost always gesso or acrylic. I also use graphite and pastels to make marks and schmooshes in the work and to add just a bit of color to an otherwise neutral palette.
What has painting, as a practice, taught you in your personal life?
Do what you love; patience; continual improvement; to feel life like I feel a painting; and intuition and emotion are not the same things.
Congratulations on your recent piece being chosen by Jack Fischer! For those who may not know, describe Art2Life and what it means to you to be displayed in this honorable international exhibition.
Art2Life was created by Nicholas Wilton, an amazing artist and teacher.  After taking Nick's program several years ago (and several times!), I crystalized what I loved about my own work which was a turning point for me.  As a result of my journey to that, last year he interviewed me for his inspiration interviews which have thousands of views. Furthering exposure for artists, each year, Nicholas sponsors an international art exhibition curated by a renowned and prominent gallerist. I have entered work to be included in this exhibition each year but was never accepted. This year, the curator Jack Fischer of the Jack Fischer Gallery in San Francisco, chose Graffiti on Concrete #3 out of 4500 pieces for the exhibition. As one of my artist friends put it "everyone [out on the west coast] hopes to have work seen by Jack Fischer" and it's a huge honor to be chosen. I feel as though this is the culmination of a journey to love what my work is and I'm grateful for the exposure.
What's the best piece of artistic advice you've received?
My friend and fellow Palette Home artist Chris Shands once advised me that she used Murphy's Oil Soap to clean brushes. I think it is the single best tip I've ever received. If you are a lazy brush cleaner like me and have brushes hardened by oil OR acrylic paint, go straight to Amazon to get your gallon!
What are your favorite daily routines?
I love to start my days in the studio around 6:00 am with a big mug of coffee and quiet time.  After a few hours painting, I talk a walk outdoors and then return to finish my studio day.
Do you have any paintings in your newest collection that are favorites of yours? If so, which ones and why?
Graffiti on Cement #4 and Concrete Study #13.  I was in my studio seeking guidance to be inspired before working on these pieces.  The words "I Sing Immanuel" (meaning "I sing God is with us") literally popped into my brain. It is not typical for me to be so overtly "religious," but I wrote it (as well as other connected words) on the pieces.  I feel those pieces the most.  The words and paintings resonate with me in a way that feels like a magnetic force, and I love them.
Everyone has an inner critic. How does yours affect your paintings?
My inner critic helps me improve.  I usually don't experience it until I see something later and am like "oh, yikes, did I paint that?"…I always know what NOT to do again.
Do you have any advice for emerging artists?
Do what you love and forget the rest! Do not second guess your work.  If you paint what YOU love, you will attract that love back and success will follow.
When you feel stuck creatively, what do you do?
I feel that being stuck is a function of having my thinking brain, versus my feeling mind, too much in the work.  I've learned to transform "being stuck" into a feeling of freedom by forcing myself to continue even when everything inside of me is screaming "don't ruin it" or "this is garbage just stop".  When I make myself continue even though it doesn't "seem" right to my brain, I always get amazing results.
What are some challenges you've faced as an artist?
People (myself included!) love color, and I don't use a lot of it.  I felt a ton of pressure about that and being different can be daunting.  Finally though, in recent years, I began to love and accept the work I create because it is all mine.  Love attracts love and there are plenty of fans for all types of art!
What, if anything, would you like people to know about your recent collection?
It was pure unadulterated fun to add a bit of color and lightheartedness into my collection with the paper pieces.  My canvas pieces are more pensive and even spiritual as always.
What are some other artistic outlets that you love?
Like so many artists, I love music of all kinds, and I listen to it in the studio always. I love to pull out meaningful lyrics and use them in my painting layers!
What are three random facts about yourself?
I buy myself flowers every week.
I believe there are angels all around us, and I communicate with them constantly.
Ben & Jerry's Phish Food in a sugar cone is my crack.
Which word best describes what you're manifesting in your life right now?
"Effortless" is my word for the year.  It's not that I want things to be easy or less work but rather that when I'm aligned with my purpose, I feel like everything is effortless.  Effortless feels happy, peaceful, and fulfilling.
Thank you Chris, for giving us a glimpse into your creative world and for this exquisite collection!