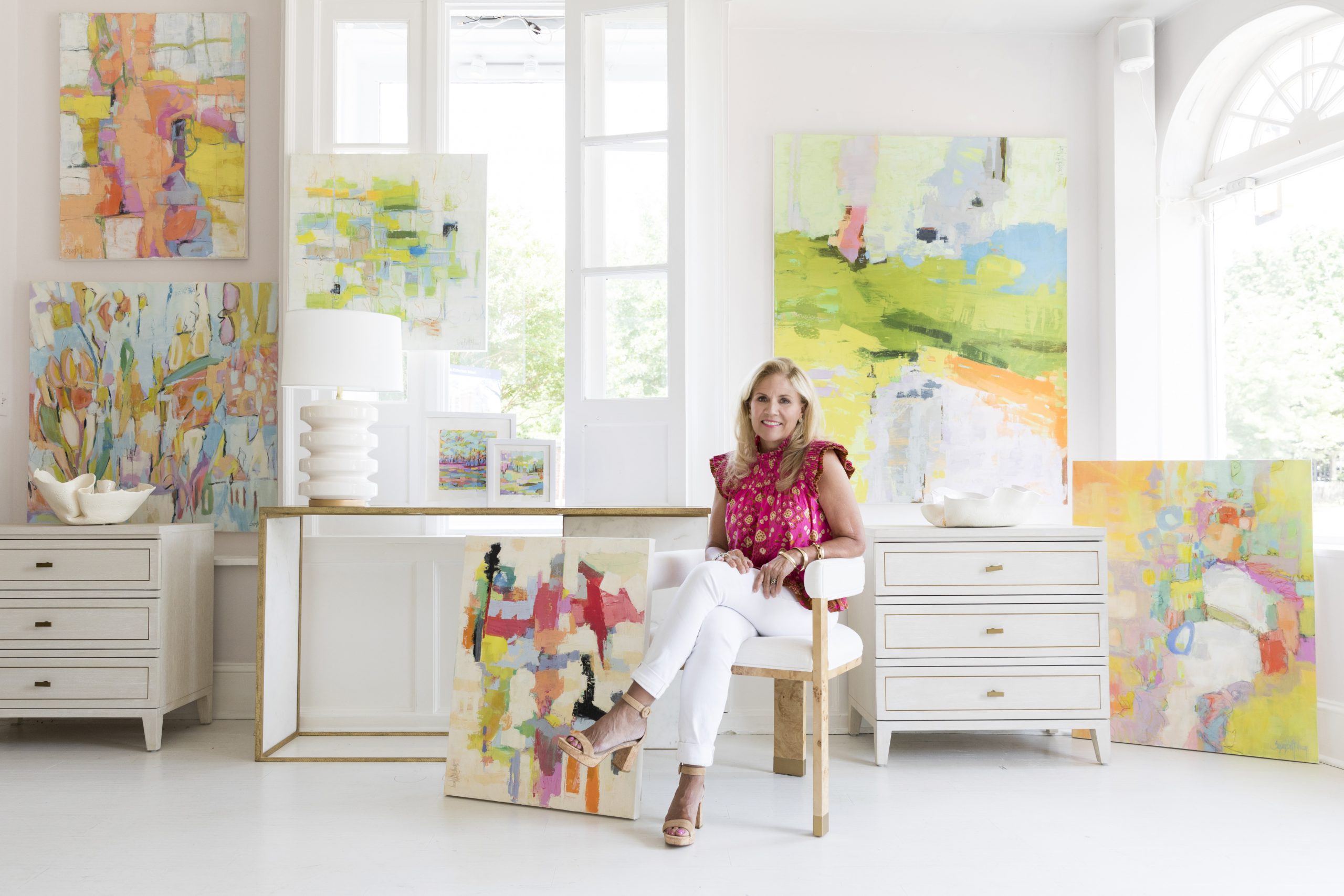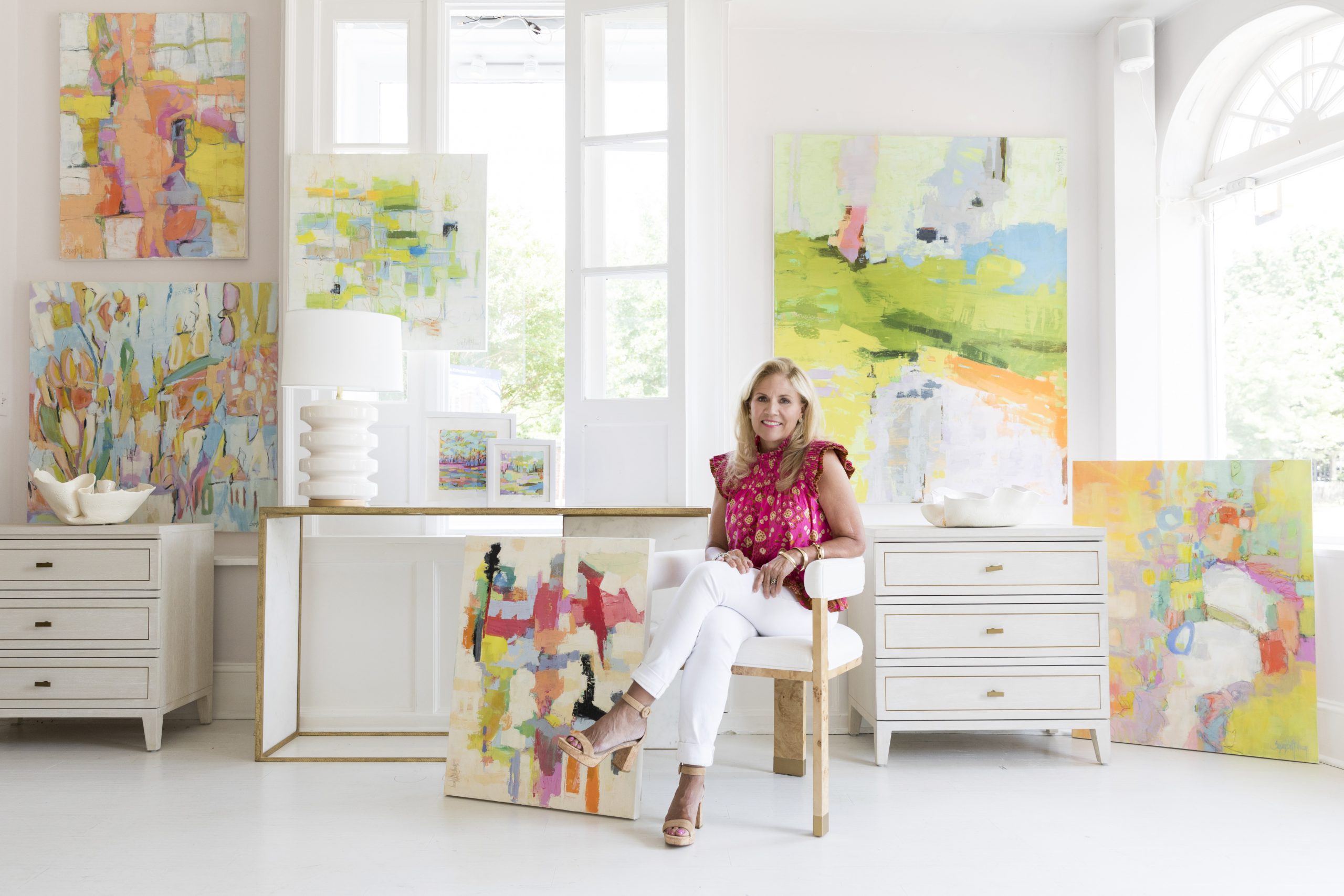 PHOTO via Palette Home by Tasha Tolliver
Where are you from and where do you live now?Where are you from and where do you live now?
I'm originally from Roanoke Rapids, NC. I've lived in many cities since I was eighteen. I never thought I'd move back to eastern NC, but as Vivian Howard said in her book 'my roots were calling me home' and so did mine! I now live in a farming community in Enfield, NC, twenty miles from where I grew up. Depending on the seasons, I wake up to beautiful cotton and tobacco fields.
Is there a meaning behind your latest series?
I didn't start out painting this collection with a meaning in mind. However, when I finished, I realized the inspiration was my life story. The collection is about the past, present and what is to come.
How do you feel when you're painting?
I feel like I'm spending time with my best friend. I work things out on the canvas. I try new things and explore with color. There's a freedom on the canvas to be me and express my heart. When I'm finished with a piece, I wonder who it's for. Once, I had an art teacher tell me, "Let your paintings go. They don't belong to you. They are for someone else." I love that!
Do you prefer to paint larger or smaller pieces?
Larger! There is freedom and more room for exploring. I like to use larger brushes, palette knives and squeegees for different movements and textures. I feel as though I can dance on the larger canvases!
What's your favorite music and how does it impact your paintings?
I love Motown, disco, beach and worship music. Music provokes my emotions and effects my technique - movement, color and texture. I had a dear friend, Tom Purdie, who loved music more than I do. After his death, his wife gave me Tom's collection of cd's which was the music of his bar, Purdy's, on Franklin Street in Chapel Hill during the 70's and early 80's. I paint to these cd's. Some of the titles of the paintings are from the songs of the 70's. Once, I painted a large painting to the song, Grazing in the Grass. It was an abstract with strokes of greens, chartreuse, turquoise, pinks and corals. However, there was a section of black anchored in the greens. After completing the painting, I researched the song to learn that the song is about a bull grazing in the grass. The painting, indeed, seems to reveal a bull grazing in the grass! I love when the unexpected happens!
Where do you draw your inspiration from?
Over the last five years I've realized that my art reflects revisiting and exploring the roots of my personal style.  My career paths of fashion and interior design, as well as, my parents have been huge inspirations. I draw from the experience of growing up where my mother's elegance was reflected in our home, her fashion and entertaining.  My father was the life in our home. He enjoyed entertaining, storytelling, dancing and Wake Forest football games with good friends. My art reflects the movement of a dance, colors of my childhood home and the joy of entertaining, all of which, expresses my gratitude of the past while creating something new and hopeful.
If you could master one skill besides paintings, what would it be?
Upholstery/reupholstery . . . I love fabrics which is another art form!
Thank you, Susan Britt. We can't wait for opening night!
If you're reading this, you're invited! Opening reception for Susan Britt Macon is on Thursday, August 11th 6:00pm - 8:00pm  
5813 Grove Ave. Richmond, Virginia 23226
---