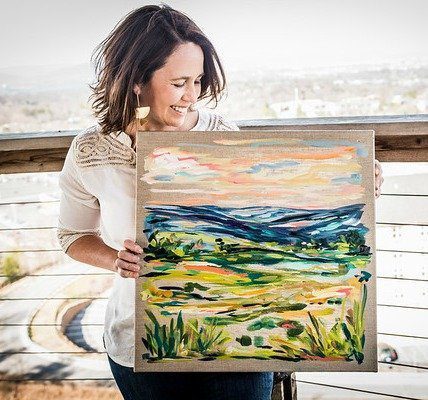 Maria Osorio Driscoll "Immersed in Hue"
IN THE HEART AND MIND OF MARIA OSORIO DRISCOLL
PH: Tell us about your family
MOD: I was born and raised in Bogota, Colombia. A beautiful, lively and colorful country! I have lived in Virginia since 1999 when I came to learn English for a summer that turned into forever when I met my husband Stephen! Together we have two amazing boys. Andrew 9, Luke 5 and Coleman my faithful studio companion who is an 11 year old German short haired pointer. 
PH: Also, can you describe the moment that you first realized that creating was something you had to do?

MOD: Ever since I remember I have been drawn to art and creating. Creating has always been part of who I am, from being a compulsive doodler, making "pictures" with rocks and sticks, tearing paper, painting, I am always creating something! Also, I feel very fortunate that my parents always supported and encouraged me to follow my dream of being an artist since I was a  little kid by providing lots of colorful supplies and diverse art lessons. 
PH: And, what kind of creative patterns, routines or rituals do you have? 
MOD: I am always mesmerized by the world around me so I feel like I am always collecting color and shape "notes"  just by looking around. I am in the studio most week days from 9-2:3O while my boys are in school. Also, I love painting at night when life is a bit more quiet! Having some structured studio time is very important for a very unstructured person like me, because as Picasso would say " inspiration exists, but it has to find you working." 
PH: How many people do you fall in love with everyday?
MOD: My two boys, over and over again! Can't believe I am so lucky!!!
PH: Many of your paintings are of the Blue Ridge mountains, what do they mean to you?
MOD: I love mountains. In Colombia, where I am from, we have the Andes which are the most glorious, huge mountains!!!  It's hard to describe, but they are like a giant witness, like something way bigger than us watching over. Also, a reminder of how little we are in the vastness of the world, the same kind of feeling as the ocean. I am constantly mesmerized by nature!
PH: And, do you have a favorite quote?  
MOD: "Attitude is a little thing that makes a big difference" Winston Churchill 
PH: What did you learn from your mom? 
MOD: Fearlessness! She is the the most fearless person I know, fearless at loving, learning, helping and encouraging others, forgiving, pursuing dreams, persevering , and getting it done. 
PH: What are you trying to communicate with your art? 
MOD: As an  artist, I want to translate the natural beauty I see all around me using color and movement. I see my paintings as a refuge, an oasis for the viewer to loose themselves in.  This quote from fellow color lover, interior decorator Dorothy Draper resonates with me; it describes perfectly the kind of escape I want to create for my self and for the viewer with my art: "There seems to be within all of us an innate yearning to be lifted momentarily out of our own lives into the realm of charm and make believe."
PH: Thank you for sharing your passion with all of us and welcome to Palette! 
See Maria Osorio Driscoll's full collection of "Immersed in Hue" at Palette March 2017.  Call or email us to inquire. Also, we ship and insure.
FOR THE LOVE OF ART