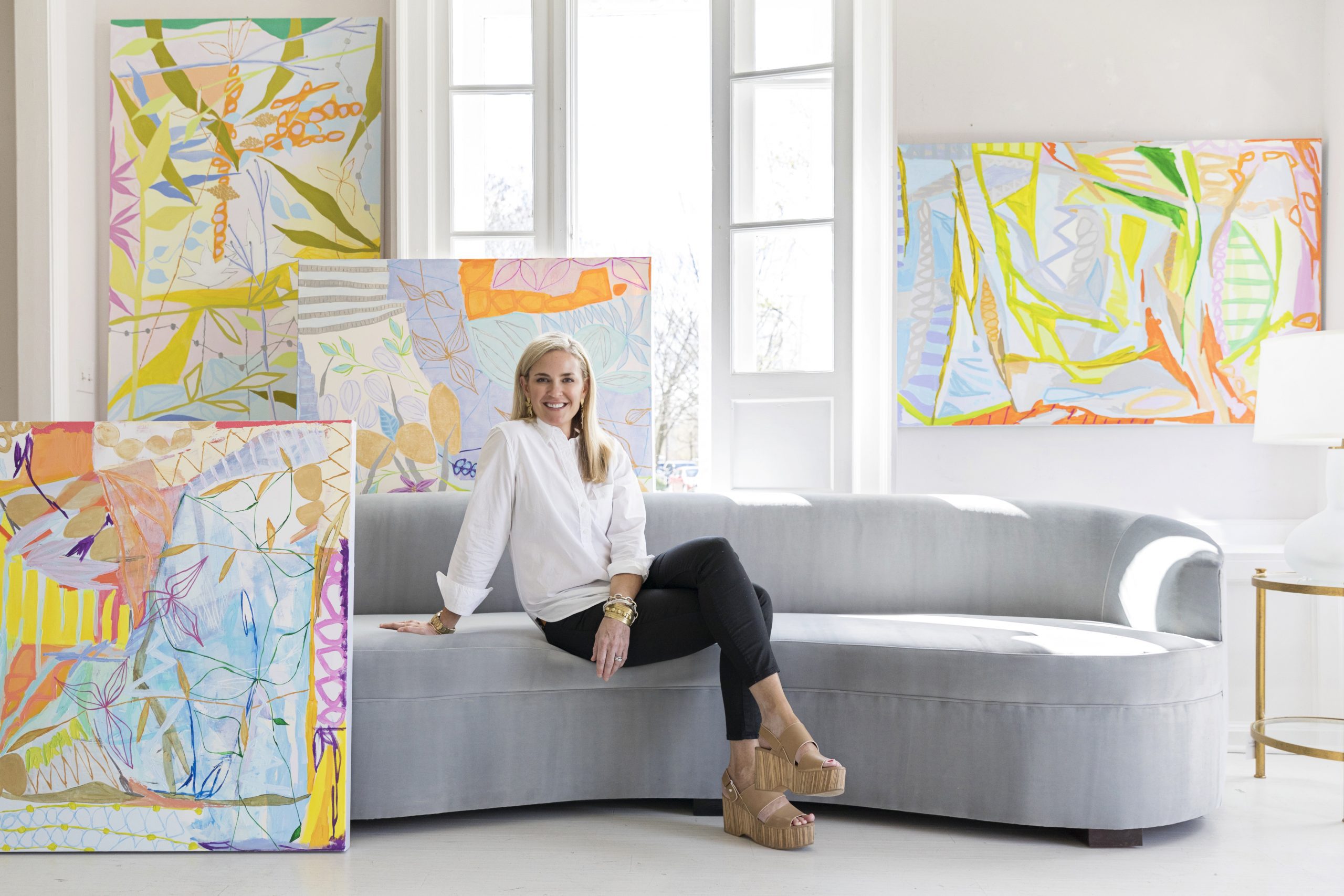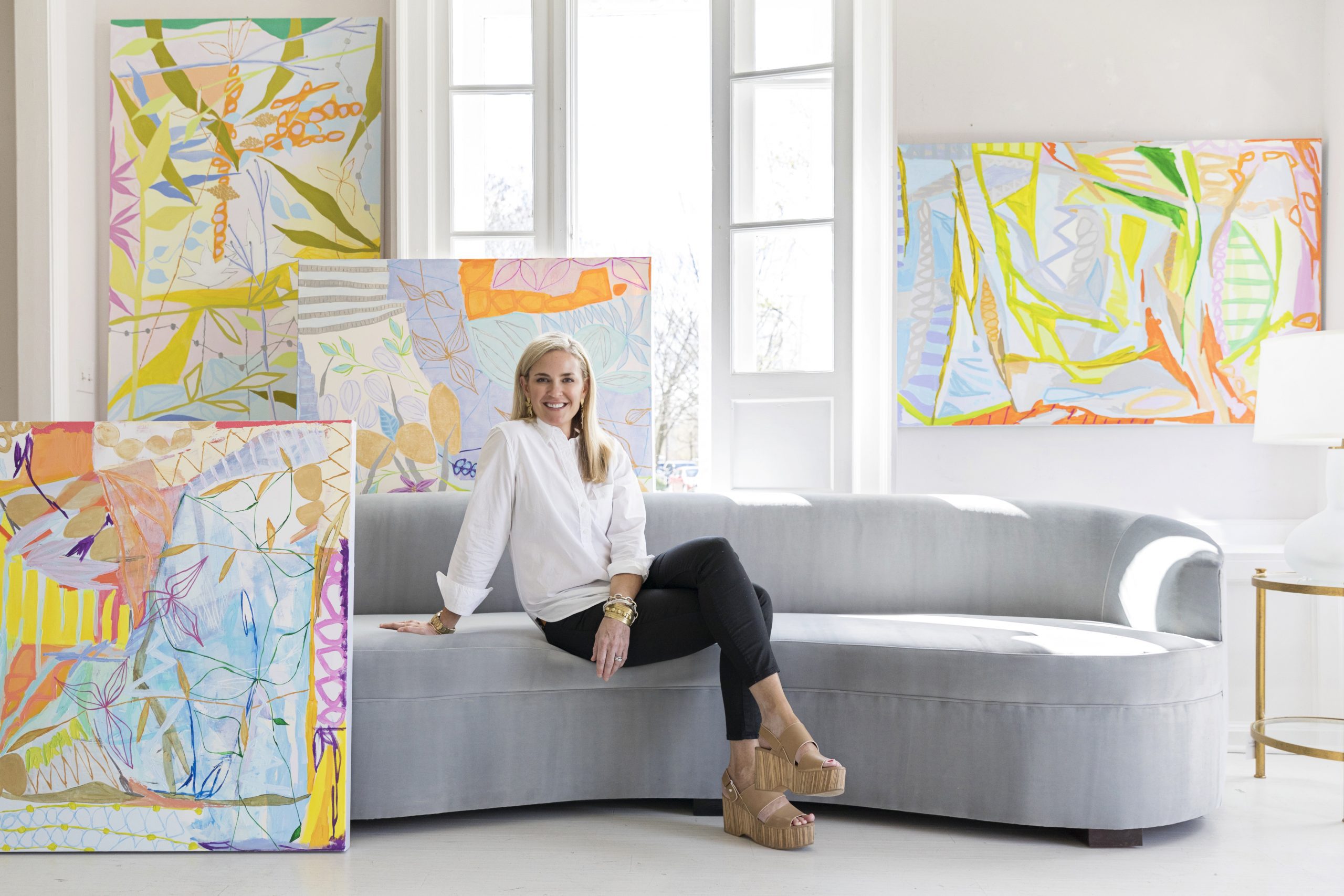 PHOTO via Palette Home by Tasha Tolliver
Where are you from and where do you live now?
From Richmond, Va and live in Norfolk, Va
What motivates you to create?
When my walls start to feel empty from selling my paintings! I always paint something that looks great in my own home so I can enjoy it before it sells.
When and how did you start creating art?
Ever since I could hold a crayon!
How do you define success as an artist?
To me, paintings are very personal which is why I'm so flattered that people want to hang my art in their own homes.
Does your newest collection have a special meaning or purpose?
I recently lost my Mom to cancer. In between hospital visits, I painted as a tension release. I tried to channel my Mom's creative energy into my work, and my paintings seemed to blossom-literally! Now, it's almost as though she's painting with me in my garden on the canvas.
How do you structure your day?
I'm very schedule oriented and carefully budget my time to maximize productivity! I usually meet with clients in the morning, and spend time in my office time in the afternoon. I break up the day with a workout after lunch. Weekends are much more relaxed and that's often when I paint.
In what ways have you developed your art knowledge and skills?
As a kid, my Mom was a volunteer tour guide at the Virginia Museum of Fine Arts. I always loved going there, especially after the west wing was built which houses the contemporary art collection. As a college student, the art department at the University of Georgia was top notch! Our studio art classes were almost four hours long Monday-Friday. And as an art major, I was required to take multiple art history classes. After college, my internship / turned job at Sotheby's in NYC was truly an art lover's dream experience! We saw everything…..fromThe Estate of Jackie O to Monet's Haystacks. Everyday was a treat and you never knew who or what would come through the door!
What are the biggest challenges of being an artist?
I think it's important to reinvent yourself so your look doesn't get stale. I want to have a style that's recognizable that doesn't look like anyone else.
Do you have any techniques for overcoming creative blocks?
I normally surf through my art books or Instagram to get some inspiration before starting a new painting. Sometimes when I struggle to find direction, I get my crayons out and start drawing on the canvas to get a direction-yes I still use crayons-lol!
What has been your greatest accomplishment?
Raising two great sons with my husband, Lang.
Name three random facts about yourself.
-I'm the youngest of three girls.
- I briefly lived at the YMCA in Manhattan's Upper West Side until I found an apartment-it was horrible but I was determined to work in NYC!
-If I weren't an interior designer and artist, I'd want to be either an architect, or residential real estate agent.
What's one thing you can't live without in your studio?
Lots of natural sunlight.
What's the biggest life lesson you've learned?
-Anything good requires maintenance.
- The better you take care of yourself, the better you are for others.
What five adjectives describe you best?
High energy, driven, fast paced, efficient , street smart.
What is something you admire in others?
I really admire hard working people that follow their passions and maximize the potential in their craft.
Thank you, Lucy. Your works are an inspiration and we can't wait for opening night!
If you're reading this, you're invited! Opening reception for Lucy Williams and Gina Julian is on Thursday, May 5th 6:00pm - 8:00pm  
5813 Grove Avenue, Richmond Virginia 23226
---