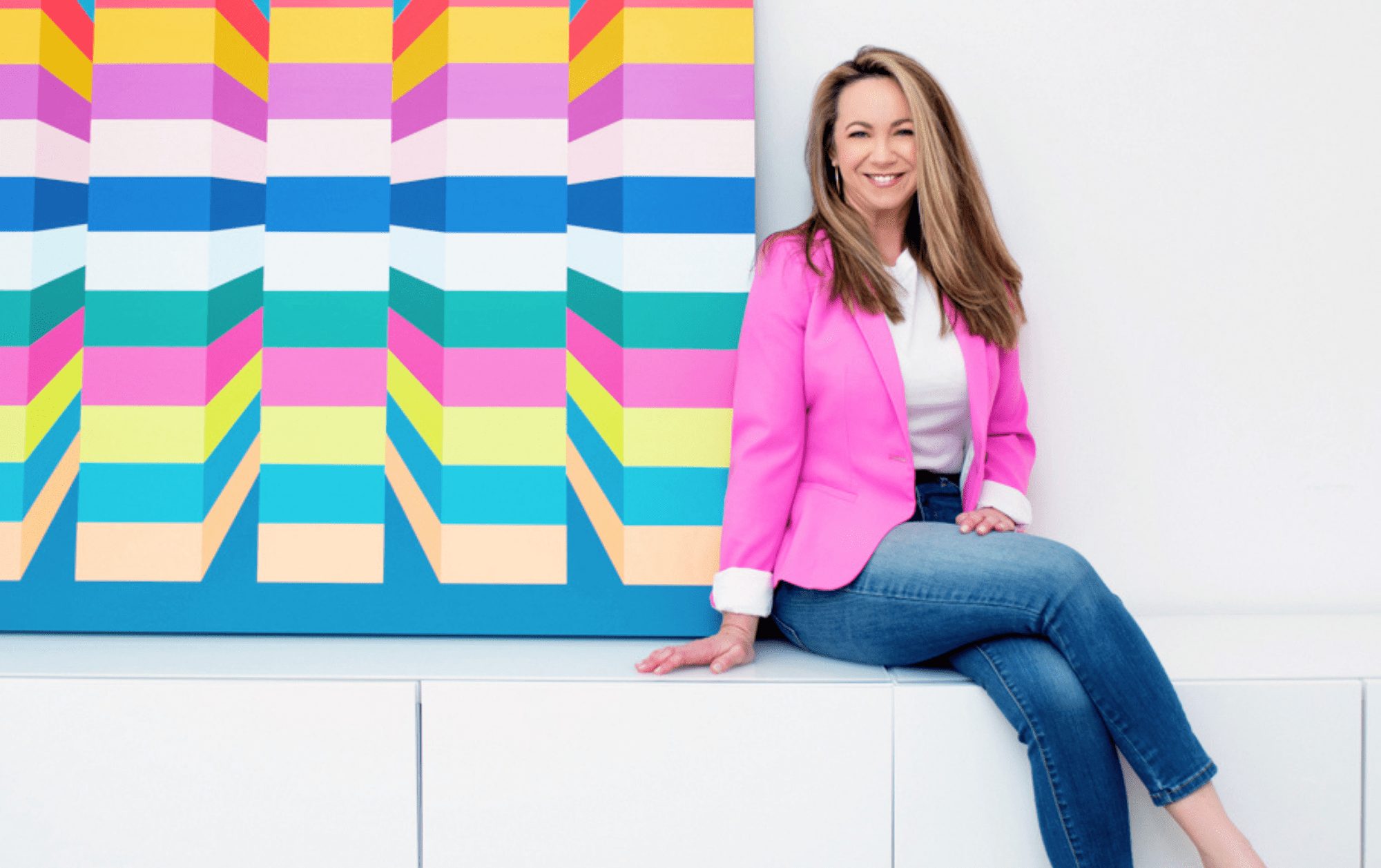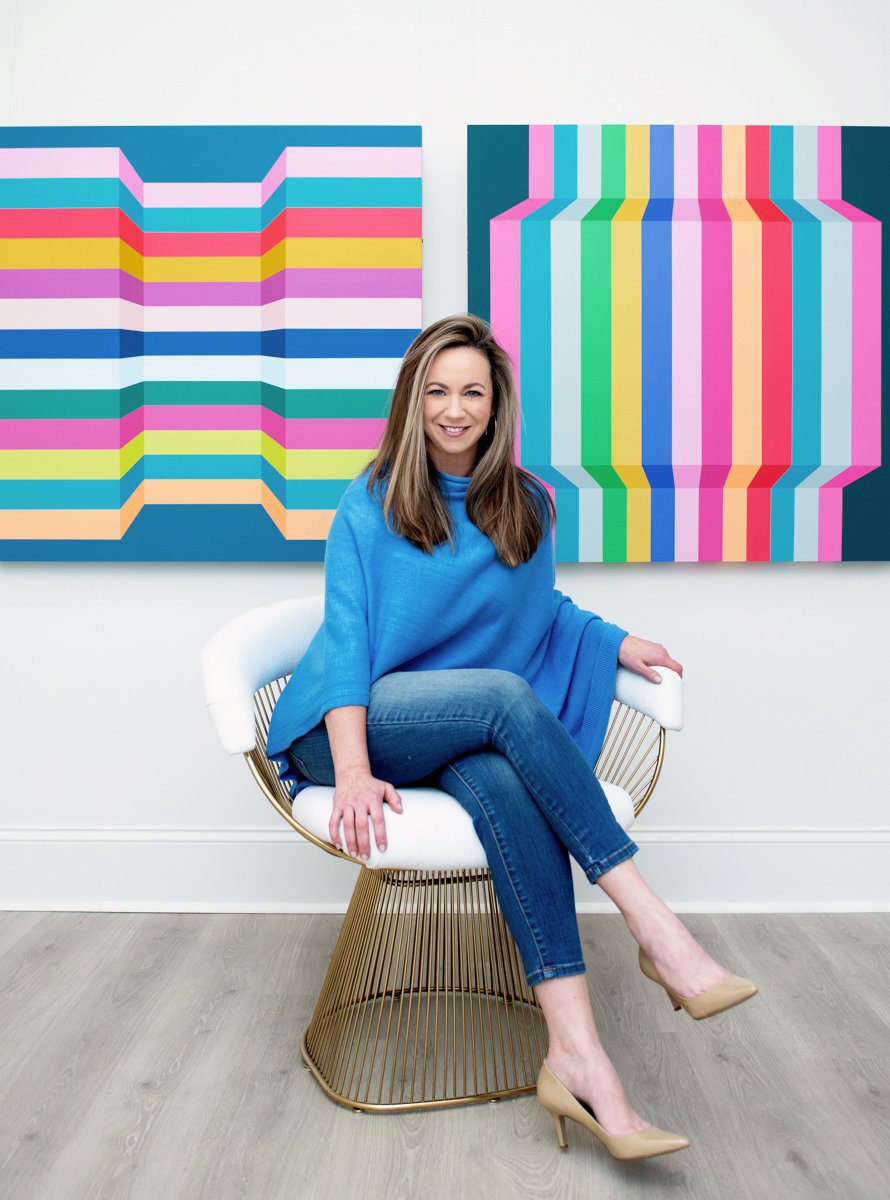 PHOTO: Shannon Fontaine (@shannonfontaine) | MUA: Vanessa Haley (@vanessahaleymua)
Where are you from and where do you live now?
I'm originally from Nashville and I now live in Nolensville, just outside the greater Nashville area.
How would you describe your art style?
I fluctuate between painting realism and hard-edge abstraction, but the one thing that never changes is my love of bold color.
What motivates you to create?
I am a natural-born maker of things and I always have been since I could hold a crayon. I don't really need motivation…it's my reason for living!
When and how did you start creating art?
My earliest memory of creating something original was at five years old. I painted a picture of a house with a window box full of lollipops (in lieu of flowers) and a candy cane chimney.
How do you define success as an artist?
Most people view success as a ladder, but I prefer to see it as a circle. My first measure of success will always be "Am I proud of this? Would I hang it in my own home?" Once I've accomplished that, the next part of success is to sell the painting so I can start the process of creation all over again. Rinse and repeat, if you will. It's a lovely cycle!
How do you structure your day?
I start my day early, between 5-6am, and I always tackle tasks that don't require a lot of thought so I can just get my body moving. Coating a canvas with gesso or putting together shipping boxes are good no-brainers for the early morning. Around 9am I'll take a quick break and answer emails, then I'll get to work on more technical painting that requires a lot of focus. I'll usually paint until at least 5pm in the winter months, and sometimes I'll paint until 8pm during summer to take advantage of the longer daylight.
In what ways have you developed your art knowledge and skills?
Experimentation…when it comes right down to it, it's all an experiment!
What are the biggest challenges of being an artist?
Currently, my biggest challenge is that creating my art involves a lot of physical labor, and during peak seasons it can really wear me out. Bending over a table for long periods of time and lifting large panels and canvases over and over can wreak havoc on my lower back, so I have to be proactive about keeping my body in good working order so I can do this, hopefully, for a long time.
What are your ultimate art goals?
My ultimate goal is to become a highly-skilled realism painter. I very much want to hone that technical skill.
Who/what do you value most in your life?
Aside from my family and my health, the thing I value most is my ability to create. I'm thankful for it every day!
Name three random facts about yourself.
1) My first job was telemarketing for a funeral company.
2) I often sleep without a pillow.
3) I rode a Honda CBR 600 sportbike on racetracks throughout the southeast for 10 years.
What's one thing you can't live without in your studio?
A ruler!
What's the biggest life lesson you've learned?
It's important to find reasons to feel good every day. Life will be good if you can do this.
Do you own a collection of something?
I have an art collection that I started in my early 30s. I collect mostly realism and often the subject matter is food-related.
What advice do you have for emerging artists?
If you want to sell your art, it is important that you believe in the value it provides and the positive impact it has on our lives. And the best way to do that is to collect and live with art yourself!
Is there a piece in this collection you are most proud of? Why?
I'm most proud of "Getting Your Wires Crossed" because it's a painting that's been in my sketchbook for almost four years and I finally made it come to fruition!
Is there an element of art you enjoy working with most? Why?
My favorite part of my process is picking the colors. There's just something about landing on a perfect color combination that gives me goosebumps when I see it.
What moment in your life would you choose to relive and why?
I don't really think about going back in time. As we used to say on the racetrack – "Never look behind you...you're not going that way!"
What steps do you take to manage stress?
I like to ride my dirt bike on trails around my house. Bi-monthly deep tissue massages are also necessary to keep me in good working order.
What's a new skill you hope to learn and why?
I recently purchased a Yamaha keyboard in hopes of learning the basics of playing the piano. My grandfather played a 3-tier Wurlitzer organ and also the mandolin, and I always wanted to learn to play.
If you could go back in time and had to choose another career, which would it be?
If I weren't a painter, I'd be a pastry chef for sure. Pastries are lovely for the eyes AND the tastebuds!
Do you think it's important to be optimistic or realistic in life?
Optimism is always best. Being realistic is simply stating "what is" over and over. It's yesterday's news, so to speak. But optimism lets you expect better things…and we all know that what we expect, we usually get.
What's your favorite way to pass the time? (Favorite tv shows, places to visit, things to do, etc.)
I love watching movies or shows that deal with altered realities (Mr. Robot and Severence are two of my favorites). I also love painting a little something just for myself. It's rare that I get a lot of spare time, but I love to play with paint!
Thank you, Gina. We can't tell you how much we admire your work!
If you're reading this, you're invited! Opening reception for Gina Julian and Lucy Williams is on Thursday, May 5th 6:00pm - 8:00pm  
5813 Grove Avenue, Richmond Virginia 23226
---