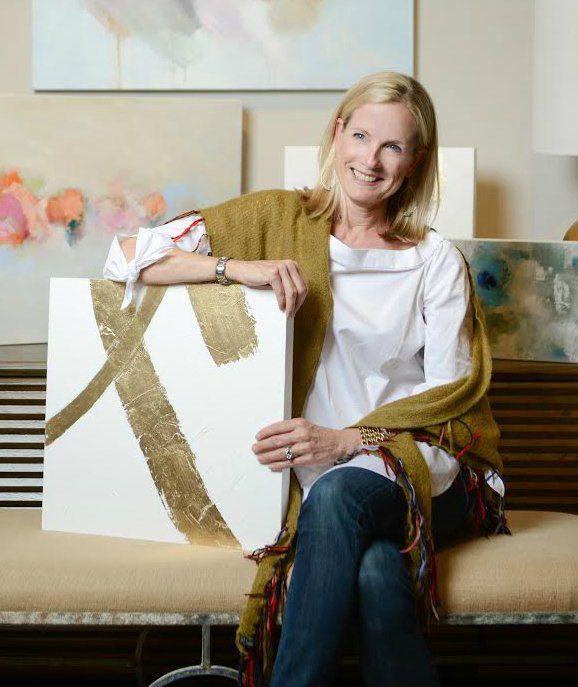 "GIFTING ART" WITH JANIE PINNEY
PH: What is one of your favorite holiday traditions?
JP: We each make a list that we share on Christmas Eve that reflects on personal "good" and "not so good" aspects of the previous year. The good lists are always longer. It's a way to communicate both the positive and negative events in order to find grace and joy in our lives.
PH: Describe your medium and what you love most about creating
JP: I like to paint in different mediums to create texture and color variations, but feel most drawn to oils. Picasso said it best, "Art washes from the soul the dust of everyday life" which for me can transform an ordinary day into something extraordinary.
PH: What is a heartwarming gift you've recieved?
JP: An engagement ring from my  . . now . .. husband 29 years ago.
ABOUT JANIE PINNEY
I grew up in a small North Carolina town, and my friends and I often turned to creative outlets for entertainment. My love for art started there where I took painting classes once a week and was exposed to the inviting world of oil paints. Over the years I immersed myself in studio art, art history, arts management, advertising, and faux finishing. I was constantly drawn to different facets of art…always appreciating how it embodies all cultures and serves as a catalyst for understanding many aspects of human existence.
As my three girls grew older, I found more time to paint. Classes and workshops have served as sources of learning and experimentation. I am constantly humbled, energized, and exhausted as I strive for more experiences and knowledge. I find daily influence from people, images, and experiences, and with that comes a desire to push myself further.
I continue to explore with abstract and traditional painting in hopes of evoking a connection through color, texture, and composition. I am fortunate and blessed to enjoy many things in life, but none are quite like expression through painting where I can joyfully lose track of "the dust of every day life" and time. That is a true gift that I treasure.
FOR THE LOVE OF ART!