OPENS THURSDAY, OCTOBER 6th with artist Chris Brandell!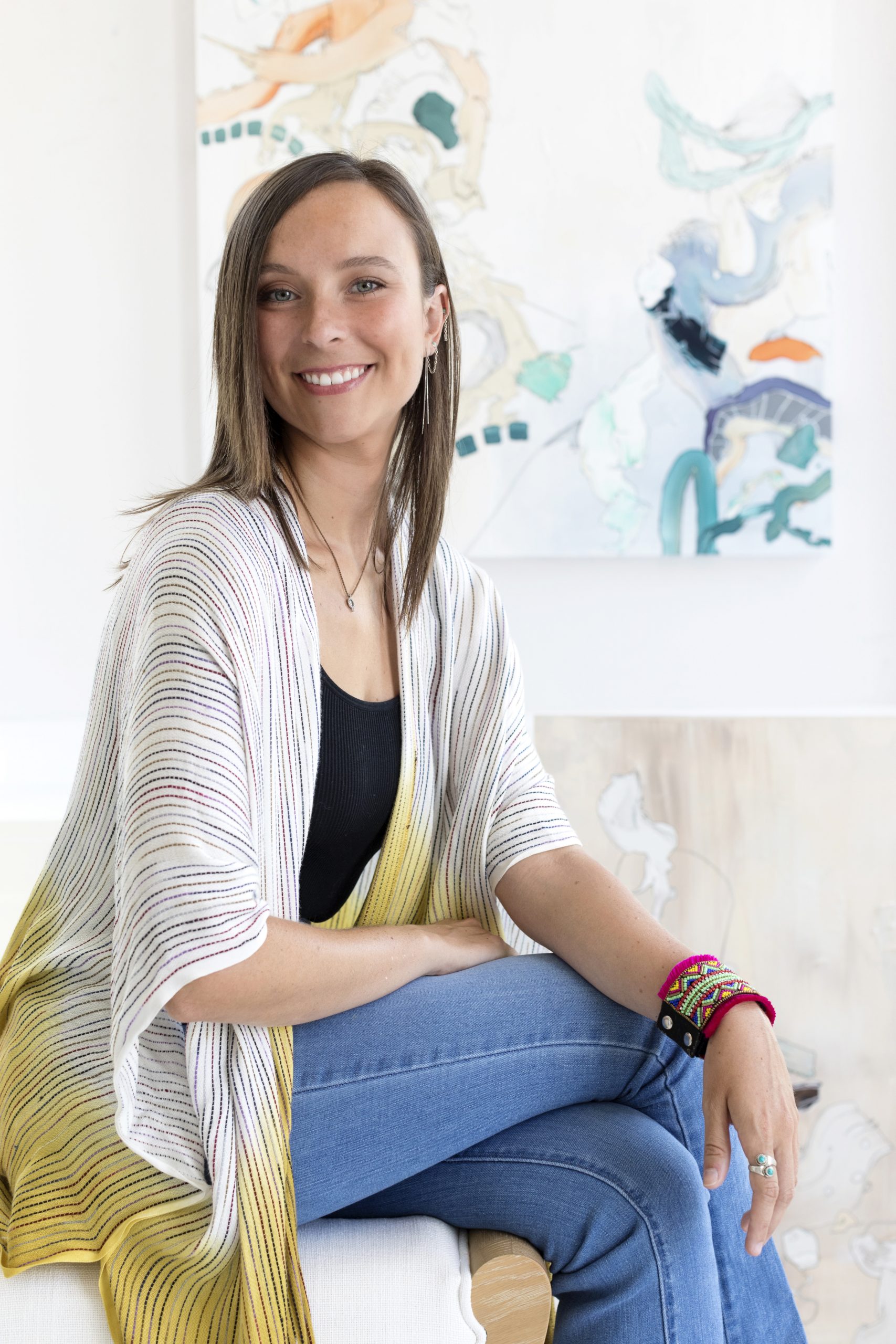 Where are you from?  
I was born and raised in Richmond. I love it so much that I stayed!
Tell us about this latest collection.  
The process of creating this collection has taken place during a very busy season for me. While overwhelming at times, I was able to find moments of grounding which helped inspire a series of landscapes which I consider to be some of my most explorative paintings to date. I played a lot more with layered texture and new types of marks in this body of work.
What are your thoughts on this collaboration?
I am so excited to show alongside Chris. I attended her show last year where we got to meet for the first time and I remember being so inspired by her. You can't help but immediately feel at peace when you look at her paintings. I feel like her beautiful, minimalist approach will create a really cool contrast with my chaotic, colorful pieces.
Which mediums do you prefer and why?
I prefer to use acrylic paint because of the way it dries and allows me to follow up with ink. I love experimenting with various surfaces. From wood to cloth to handmade paper, I really enjoy seeing how the paint & ink interact with each type of canvas.
What has painting, as a practice, taught you in your personal life?
To let go of anticipated outcomes and make peace with what is.
To be as confident in the unknown as I am when flinging paint onto a canvas.
And to appreciate my mind for the way it works.
What in your life has led you to start your artistic journey?
I love learning, but never enjoyed the confinement of school. I always found comfort in doodling around the margins of my notes in class. I would scribble with neon highlighters and then outline those scribbles with a black ballpoint pen. I owe so much of my development as an artist to my Honors Art teacher, Pam Sutherland, who taught me that I could take this technique and make it my own by using it on a larger scale and with paint. It's so funny to me that doodling during class...something that teachers often scolded but also something that felt so necessary...was the seed for my artistic growth. It's been with me ever since.
Describe a moment in your life when you've felt courageous.
Writing and recording music over these past two years! I recently recorded two original songs and while I feel very nervous for them to be released, it is definitely the bravest I've felt in a long time.
Tell us about your new album and when it's releasing.
We are still finalizing a release date but I have a 4-song EP coming out soon! There will be 2 covers and 2 originals. Singing and songwriting is something I have always done very quietly since I first began playing string instruments at age 12. I am excited to finally be claiming this part of my artistic identity, because music is something that really means a lot to me. You can find me on Spotify, Apple Music and Youtube.
What are your favorite daily routines?
Morning time is my most favorite. I wake up around 6:00, drink coffee, meditate, and then walk my dog while listening to a podcast or audiobook. I spend my mornings working on all things art-related before heading to Saint Christopher's to teach. I usually finish out my day at the climbing gym. My routine has a little bit of everything which I love.
Do you have any paintings in your newest collection that are favorites of yours? If so, which ones and why?
I really love "Seeing Things." Aside from enjoying the piece aesthetically, I feel connected to it on an emotional level based on how I was feeling when I started it, and everything it helped me work through.
How would you describe creativity?
Having the guts to make something out of nothing and having the ability to recognize beauty where others might not. Working with young kids has made me realize that we are all born creative. It's just a matter of nurturing it as we grow.
When you feel stuck creatively, what do you do?
Honestly, stepping away from my work for a little bit always helps me. Sometimes it's a day, sometimes a week. I always feel like I come back with more ideas than ever when I give my craft some room to breathe.
What are some challenges you've faced as an artist?
I've been showing and selling my work since college, but it wasn't until recently that I felt comfortable saying out loud that "I am an artist." There was always that fear of not being taken seriously as a professional artist. I finally got to a place where I realized that, instead of being self-conscious about having chosen a different kind of career path, that I should be proud, excited and grateful that I get to say those words…"I am an artist." I know now that it's the best thing I have to offer the universe, so I'm all in.
What are some things that inspire you to create day by day?
I draw from things I see in nature. I spend a great deal of time in the mountains, so there are usually a lot of blues and greens. I'm also partial to pops of color that seem super unnatural in their environments. For example, bright yellow fungi in a sea of dead leaves...stuff that makes you stop in your tracks and say "wow. that's exciting and unexpected and simply makes my whole entire life worthwhile."
What are some other artistic outlets that you love?
I love writing poetry and playing guitar, banjo, and mandolin.
What are three random facts about yourself?
I have 3 dogs. Luna, Lick, and Cooper.
Halloween is my most favorite time of the year. I love dressing up scary and if I had the time for it/had the ability to stay up later than 9pm, I would love to do makeup for the scarers at Kings Dominion Halloween Haunt. Or maybe even be a scarer myself!
My favorite animal is a jellyfish because if my art were an animal it would be a jellyfish.
Which word best describes what you're manifesting in your life right now?
"Acceptance." I sometimes slip into patterns of judging myself pretty hard, so the idea of not inviting that judgment into my life and making amends with what is right here, right now feels really important at the moment.
Thank you Hope, we know everyone will enjoy the details of your beautiful paintings as much as we do!