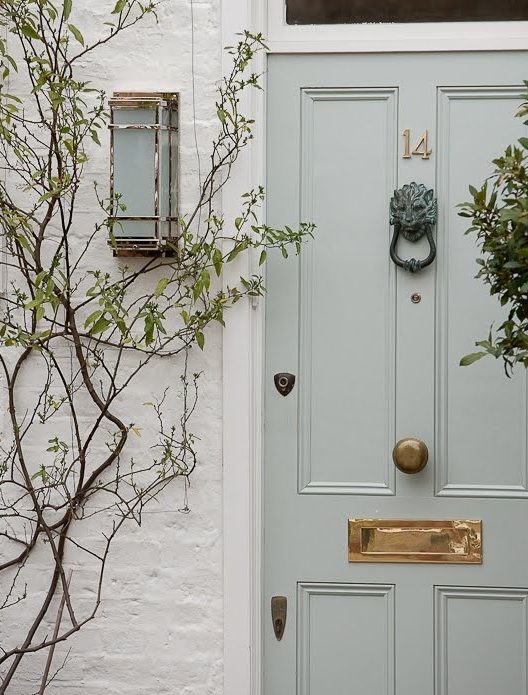 We cannot imagine why, but the British have always spelled it, "Grey" while we Yanks spell it, "Gray." Either way, it is the hottest neutral right now. If you think of Gray as being cold, you would be wrong! Gray is a sophisticated neutral that provides a chic back drop to other colors, if you wish, or as part of a neutral palette.
Check out these stunning examples of Gray, looking all sophisticated and gorgeous!
We can't think of a color that doesn't look amazing with Gray. Swap out the pink accents in this room with any other color (imagine it -citron, aqua or orange) and it would be just as pretty!
Crazy about that mid-century modern piece your mother gave you, but the finish is just ho-hum?  Choose Gray!  Join one of our workshops and we'll show you how easy it is to transform furniture pieces with Amy Howard paints and we have a half dozen excellent shades of  gray to choose from.
A VERY inviting front door!  Get this look with Bridget Beari Color #3 – Goose Muffin mixed in Fine Paints of Europe, the best door paint in the world.
Beautiful and relaxing kitchen in Farrow & Ball Downpipe.  Downpipe on anything is downright stunning.
Farrow and Ball painted Wallpapers – don't you love this traditional  pattern in fresh gray?  And the headboard idea is as affordable as it is dreamy!
We love this simple yet inviting entry hall – the gray mirror is perfect.
Love this simple creamy gray wardrobe with the surprise color inside – add the crisp white linens for just – loveliness.
We must say, don't forget the importance of the hardware when you are painting! Here the pull is painted to blend with the piece.
If you've got some great grays going on, we hope you'll like us on Facebook and show us your stuff! Everyone could use a little inspiration, after all.