TRADE MEMBERS: WELCOME TO FINE PAINTS OF EUROPE!
REGISTER HERE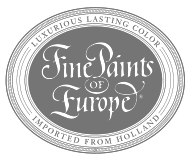 Why Fine Paints of Europe?
Because they are formulated with expensive resins which are carefully combined with a high concentration of finely ground pigments. Inexpensive fillers are never used. The result is a high gloss, oil based paint that will literally last for years longer than any domestically produced paint.
Palette is your exclusive dealer of Fine Paints of Europe for all of Central Virginia.
Fine Paints of Europe utilizes a unique tinting system completely unlike that of conventional paint. These complex formulations are designed to exhibit subtle nuances of tone that alter with changes of light and season.
How to Order
Give us a call or scroll down to shop online. We are a CERTIFIED RETAILER and full stocking dealer. We are happy to answer all of your questions, mix your paint and have it ready. We ship!