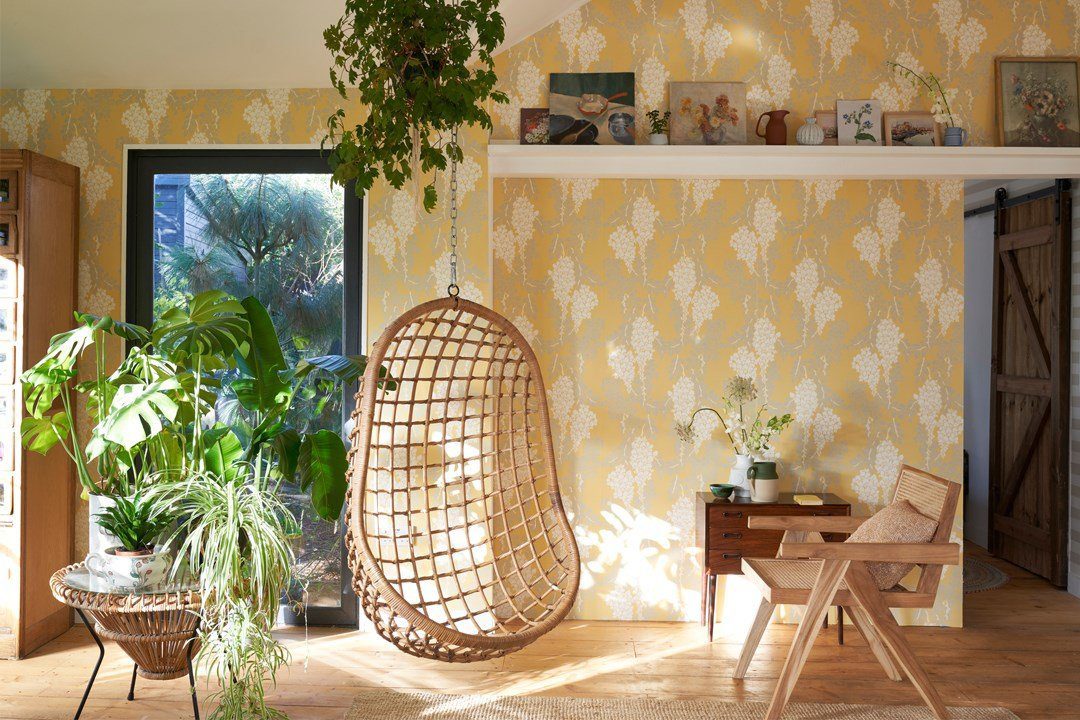 Spring Color: Farrow & Ball Wallpaper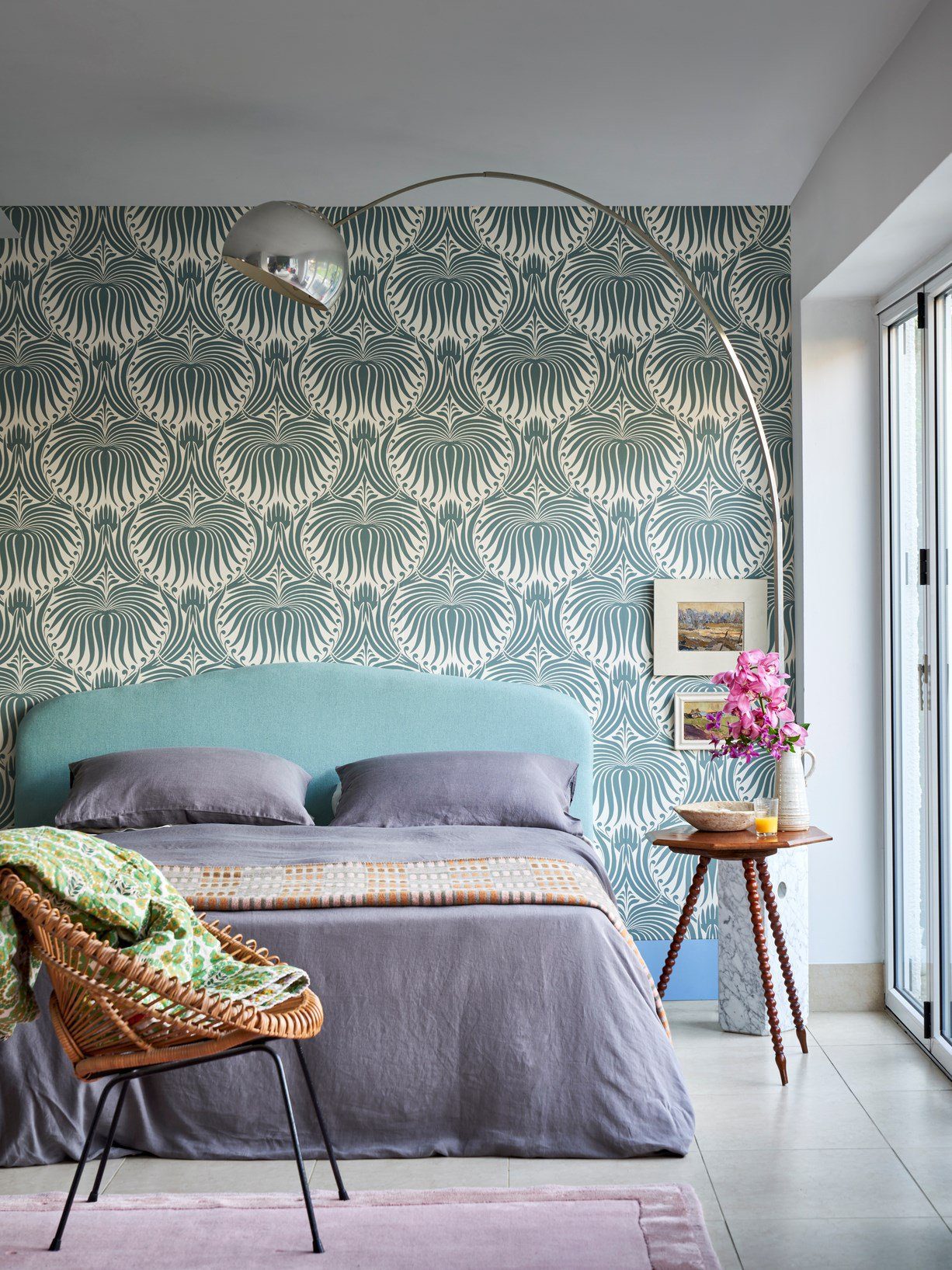 Spring is a lovely reminder of how beautiful change can be. With the warmer seasons coming ahead, we can't think of a better way to freshen up any space than wallpaper! Classic wallpaper never goes out of style and Farrow & Ball has some of the best! Whether it be a chic, botanical pattern like the international sensation "Lotus", or a pure and simple pattern like "Five Over Stripe" or "Drag", there's something for every room!
"The process for creating our handcrafted wallpaper starts with rolls of high-quality, vinyl free paper sourced from sustainably managed forests, continues with our small-batch manufacturing, and ends with a beautiful, durable product that's printed with our own paints."   — Farrow & Ball
Leave a comment below on your favorites! Ask us a question or let us know if you'd like a free wallpaper sample!
A beautiful botanical.
"Our Art Nouveau inspired Lotus design brings a touch of 19th-century elegance to homes both traditional and contemporary. Each sweeping bloom is printed with real Farrow & Ball paint, creating tactility and a sense of movement."
Lotus comes in 71 colourways including luxurious metallics, but for the new season, we're particularly loving the relaxed blue-grey and off-white palette of Lotus BP 2053 (pictured to the left).
Full roll width is 53cm/21", roll length is 10m.
This wallpaper is available in large pattern repeat and small pattern repeat. Large pattern repeat is 51.8cm. Small pattern repeat is 25.8cm.
---
Pictured: Lotus BP 2053
Ground color: Pointing No. 2003
Print color: Oval Room Blue No. 85
A lush foliage.
"Brocade takes its design from the opulent fabrics featured in the Renaissance paintings of the National Gallery. Its ornate pattern of thistles, flowers and leaves brings an ordered elegance to contemporary and traditional spaces alike."
For a real burst of springtime joy, a lush green wallpaper is hard to beat. Embrace this most seasonal of shades with Brocade BP 3207 (pictured to the left), a subtle tone-on-tone print that brings interest and vibrancy to any room while being scaled-down enough not to overwhelm smaller spaces.
Full roll width is 53cm/21", roll length is 10m, pattern repeat is 24.1cm/9 1/2". Available in 10 colourways.
---
Pictured: Brocade BP 3207
Ground color: bespoke
Print color: Green Smoke No. 47
The perfect cottagecore print.
A pretty floral print, Peony is equally at home in traditional or contemporary schemes. Its blooms combine modern glamour with classic romanticism to bring fresh colour to any room."
It doesn't get anymore "springtime" with a gorgeous pop of color like yellow. Believe it or not, these bright yellows are a huge comeback shade in 2022! Especially when paired with floral designs.
Full roll width is 53cm/21", roll length is 10m, pattern repeat is 62.8cm/24 3/4". Available in 22 colourways.
---
Pictured: Peony BP 2305
Peony 2305 is an archived wallpaper. Minimum 3 rolls per order.
A Victorian-inspired print.
"The softly trailing vines and abundant blooms of our Wisteria paper perfectly capture the beauty of a late English spring, bringing a joyful feel all through the year. Drawn from 19th-century woven fabrics, the pattern is classically romantic and beautifully detailed."
Full roll width is 53cm/21", roll length is 10m, pattern repeat is 54cm/21 1/4", Available in 23 colourways.
---
Pictured: Wisteria BP 2212
Ground color: Yellow Ground No. 218
Print color 1: Pavilion Gray No. 242
Print color 2: Pointing No. 2003
A classic stripe wallpaper.
"Our Five Over Stripe wallpaper is a classic print that balances crisp lines with inviting texture for a lived in feel. The expert craftsmen at our Dorset factory use a traditional dragging technique to apply stripes of our water based paint, giving each paper a subtle variance."
This wallpaper is a clean, evenly spaced stripe with more of that ever-so-subtle texture (thanks, trough printing!) that can be hung both vertically and horizontally to create a range of looks.
Full roll width is 53cm/21", roll length is 10m, stripe width is 5.6cm/2 1/4". Available in 13 colourways.
---
Pictured: Five Over Stripe BP 612
Ground color: Pointing No. 2003
Print color: Joa's White No. 226
A simple, pure backdrop.
"Created using a single colour of our water based paint, our Dragged papers are wonderfully simple to match with your existing scheme, while the traditional application method leaves beautifully textured brush marks on the surface of the paper. Drag wallpapers use a single colour of Farrow & Ball paint, applied to the paper with a traditional trough-printing technique to create the most subtle of textures."
Drag DR 621 is similar in tone to cult favorite paint color Pink Ground, a pale pink with lots of yellow pigment that feels at once light, fresh, and warm – perfect for spring. If you're not hot on pink, there are pale golden yellows and easy-going denim blues that feel just as tailor-made for the season.
Full roll width is 53cm/21", roll length is 10m. Available in 112 colourways.
---
Pictured: Drag DR 621
Ground and print colors are intended as guidance only, not as an exact match for colors in Farrow & Ball's palette.
Video by Farrow & Ball
"Our traditional methods of crafting wallpaper can result in subtle but noticeable differences between batches of the same design. For the most consistent results, it's best to order all the rolls you'll need for your project in one go."   — Farrow & Ball
Discover these wallpaper prints and many more at Palette Home! Give us a call or stop by.
(804) 716-1742  |  5813 Grove Ave. Richmond, VA 23226   —   Open Monday-Friday 9:30 - 5:30 & Saturday 11:00 - 4:00
---
Looking for paint samples? Click here to test a sample pot - free shipping!