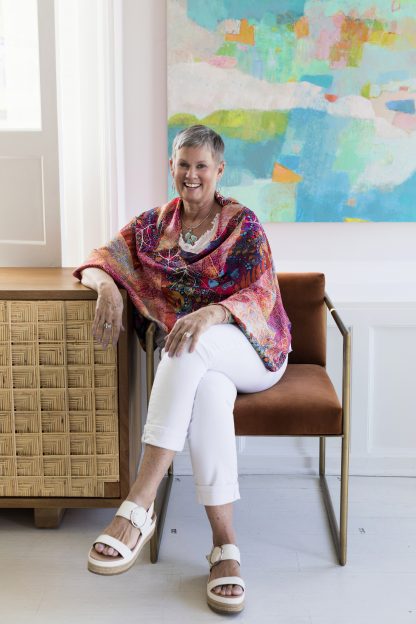 Sue Jachimiec was born and raised in Chicago, IL. After graduation from the University of Iowa, Sue worked on the trading floor at the Chicago Board of Trade. Desiring a break from the hustle and bustle of city life, she moved to Richmond, VA, pursued her artistic passion and quickly became connected within the art community.
Today Sue works with a variety of mediums, such as oil and cold wax, encaustic, and acrylic. Many of her days are spent experimenting in her studio. The process of manipulating layers to allow for a surface rich in texture is a main theme throughout her work.
Sue travels between her studios in Richmond, Virginia and Dodgeville, Wisconsin with her husband Jeff, and always finds inspiration for her latest artistic creations wherever she goes.
"My newest collection holds a special place in my heart. I've titled this exhibition True Blue in honor of all those friends, family, acquaintances and complete strangers who made a positive difference in my life while I was undergoing breast cancer treatment. Most will never know how their acts of kindness buoyed me when I needed it most. There are so many selfless, good and very kind people in the world." - Sue Jachimiec