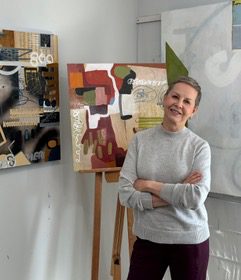 Martha Welch grew up in Valdosta, Georgia, where she received her Bachelor of Science in Nursing.
She married an F-16 pilot and moved many times in his 23yr career. They were fortunate enough to enjoy several tours in Italy and Germany. Living in Europe with her three children was an incredible experience for the entire family.
Growing up Martha's mother was teaching art history at the local college and was her greatest influence. She constantly encouraged creative thinking. Martha always jokes how her mom would not buy her coloring books but rather a blank pad for coloring and drawing.
Martha began painting 10 years ago. She works in many different media to include pencil drawings and pottery. Cold wax & oil, acrylic, and mixed media are her favorite.